by Ben Daniels (Admin) on Dec.31, 2018, under CFNM TV
The new trainer has just arrived and the arrogant, horny and cocky young jocks are definitely in for a big surprise. They've all expected a man, but the new trainer turns out to be a woman. And not only that. She is so sexy and beautiful that none of these horny bastards can remain unmoved by her luscious, provocative appearance.
Despite her sexiness, this woman is determined and capable of dealing with a bunch of hormone-driven macho bucks. Admittedly, her methods may be a little odd and unorthodox (such as making these lads run around the hall fully naked), but she assures the director that her methods are very effective.
And as if running naked around the training hall wasn't enough, a group of female cheerleaders suddenly arrive on their special private training session with the Swedish instructor. The men are furious and want to order the girls to immediately leave the gymnasium, because they think it should be an all-male domain, but the new female trainer invites the girls to sit on the bleachers and watch the boys while they're working out totally nude. The angry boys are nervous, because their dicks and low-handing balls are dangling for everyone to see. Meanwhile, the girls are just giggling and enjoying the show!
These jocks are still bewildered that something like this could happen to them. All their macho world in which they are the dominant species is now turned upside down! Just a few hours ago, these six young studs were the main bosses in the college: everyone knew they were the most popular, the most ripped, and the most handsome guys. But this new Swedish female trainer has ruined the whole dream for them! They've been forced to exercise fully naked and to show off their naked bodies, balls and cocks to these unknown cheerleaders. And now, these nasty females want them to jerk off and empty their balls by spilling their seed onto the gymnasium floor – just because it is entertaining for the girls.
Click here to watch their entire adventure in HD quality at CFNM TV!
CFNM TV is a brand new site from the creators of sites such as CFNM, Brutal Tops, Breeder Fuckers, The Casting Room and CMNM. If full-length videos of hung masculine men being dominated by beautiful horny women turns you on, you're certainly going to enjoy this site. It is actually the video site specific CFNM site that's made especially for those who prefer videos to photo stories.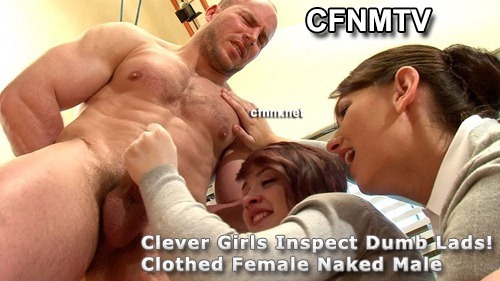 :cheerleaders, clothed female naked male, female trainer, jerking off, muscled, naked jocks, Spilling Seed, spontaneous erection, sportsmen, Swedish trainer