Shane Stone and Caleb Ramble are two strong, athletic and muscular lads. They both like to work out very hard, and they both like sex so much that hardly a day passes without some good banging.
Their bodies are pretty amazing, almost perfect. I mean just look at Shane's manly chest, ripped muscles and strong, hairy legs. Caleb is a bit less hairy but has pretty much the same muscle definition like Shane. They both have quite big, juicy cocks and are generally easy going and masculine in their behavior. I once had a physical education teacher like Shane Stone, and boy oh boy, did I dream about being fucked by that gorgeous man, it was a real obsession!
Anyway, Shane and Caleb exchange blowjobs first, then Caleb starts to fuck Shane in several positions. This fuck scene is so good that I don't think it's an overstatement to say there is an almost epic atmosphere to it. When you think about good, passionate sex between two hot and manly men, you create an image that is pretty much similar to this scene.
After a thorough fucking, Caleb starts to shoot his load which squirts all over Shane's six pack abs.
Preview video: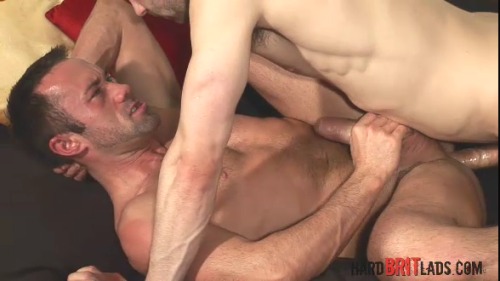 Click here to watch their entire video in perfect HD quality at
Hard Brit Lads!
Hard Brit Lads is a relatively new porn site that features only the most masculine and well-built straight and bisexual guys showing off and fucking the shit out of each other. The videos are well-made and shot in HD. Don't miss out lots of amazing, manly men!