by Ben Daniels (Admin) on Feb.26, 2019, under Military Classified
Italian straight boy Jerett is the latest newcomer to Militaryclassified, and what a fine addition he is! Jerett was born in Pennsylvania and currently resides in California, trying to absorb as much of that warm sunshine as possible and get some taste of good life. Rob met Jerett and managed to convince him that getting sucked off by him would be a great thing, both for his site members and for Jerett's wallet. Rob told him he could watch any pussy porn he liked while getting his dick professionally serviced, and Jerett accepted the offer!
Jerett is a very funny guy with a good sense of humor, but when that magical pussy porn starts playing on the TV, he just gets totally lost in it. While he was being interviewed, he told us many of his sexual adventures, most of which were pretty hot, and he would always have that sexy, mischievous grin on his handsome cute face. Needless to say, Rob didn't waste any time and soon enough he was on his knees and swallowing Jerett's beautiful piece of manmeat!
Rob always tries to give his best when he has a total newcomer like this, and it seems that Jerett was a bit unaccustomed to the intensity of the blowjob that Rob can provide. You can tell by Jerett's face expressions that he was really surprised! That was one really intense blowjob, definitely not a slow one but more like a roller coaster of a ride towards Jerett's climax.
Jerett managed to save up his load for about 5 days and that pent-up pressure was just begging to be released. So it didn't take Rob too much time to bring this new recruit to the point of no return, and then Jerett sprayed his load of cum from that delicious Italian dick of his. Rob says it tasted amazing – a good clean living taste of fresh cum!
Preview video:
Click here to watch or download his entire video in HD quality from Military Classified!
Military Classified is a well-known straight guy site that features lots of military men (marines, navy men, Air Force servicemen and an occasional civilian guy as well). At the moment of writing this mini-review there were more than 420 videos of various guys in the content area of the site! Of course, the guys are always horny and eager to bust a nut. While for some the primary motivation is money, there are also many guys that are curious to see for themselves if it's really true that men suck cock better.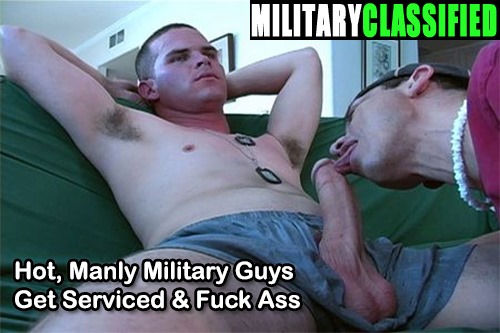 :beefy, big cumshot, big dicks, blowjob, handsome, Jerett, mushroom head, Rob, Serviced, sexy face, straight men, well-built