Some people will remember Dean – young, tall, muscular and lean straight guy who just left the Navy. This masculine straight guy is quite inexperienced, and perhaps surprisingly he hadn't had much sex until now despite his good looks. This is Dean's second appearance on Militaryclassified, and you can imagine how enthusiastic Rob was about getting his hands on Deans uncut dick again!
As is rather typical for inxperienced straight guys, Dean was pretty nervous and anxious about this video shoot, because he knew that another guy would be touching and probably manhandling his cock. He was anxious that he wouldn't be able to get it hard, or that something else wouldn't work. However, he was determined to give it to go.
During the long interview with Dean we learned that he hadn't had many sexual encounters, and those that he had were somehow clumsy. Perhaps this is due to his "No game" philosophy. Rob found it rather depressing to hear such sad stories from Dean, so he didn't waste any time and told Dean to just undress and let his skilled hands handle that beautiful cock.
So first Rob told Dean to stand up and get naked, and then he took his camera and shot every part of Dean's great body from top to bottom. Dean has a natural, lean and somewhat muscular buddy, which makes him look kind of average, but in a hot way. Rob told him to sit down on his couch, and then reached for the flashlight. Dean really liked the looks of this pussy machine, because it looks so much like the real thing, and he was obviously very excited.
As soon as Rob started to emulate a pussy with the flashlight by stroking Dean's cock, Dean went into a frenzy and couldn't believe how much he got turned on and how much his cock got hard so quickly. As a matter of fact, he had to announce several times that he was close to cumming, because the flashlight was so effective on his dick. Rob decided to play a little naughty, and instead of backing down he stroked Dean's cock even faster. It's funny to see how Dean becomes kind of desperate as Rob continues to manhandle his dick with the flashlight!
Rob says that he almost felt a little bad about bringing this boy to the point of no return so fast, and then backing down so many times. It was really a good edging experience, probably Dean's first of that kind. Eventually, Dean just couldn't hold it any longer, and he warned Rob about the imminent explosion. Then he shot a really nice load, which was a fitting ending for this great video.
Preview video: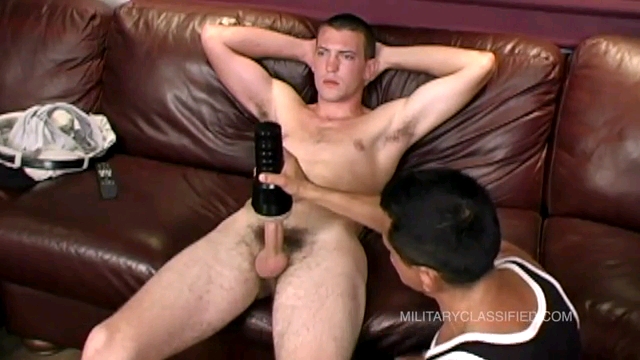 Click here to watch or download his entire video in HD quality from Military Classified.
Military Classified is a well-known straight guy site that features lots of military men (marines, navy men, Air Force servicemen and an occasional civilian guy as well). At the moment of writing this mini-review there were more than 420 videos of various guys in the content area of the site! Of course, the guys are always horny and eager to bust a nut. While for some the primary motivation is money, there are also many guys that are curious to see for themselves if it's really true that men suck cock better.