by Ben Daniels (Admin) on Mar.01, 2019, under Island Studs
Here is a very fine specimen of a hot, mature and very hung daddy – let's introduce Hung Surfer Daddy Jason! This 34-year-old totally straight and divorced Army Veteran has two kids, and when he heard about the opportunity to earn some extra cash by showing off his naked body and big cock, he was all for it. It's no wonder that Jason loves to show off his cock… who wouldn't when you have a thick 9-inch beauty between your legs!
Jason loves to surf and he brought his aqua bodyboard with him today. We totally enjoyed watching him parade around the garden with his cock fully erect, wearing a floral lei cock ring around his huge cock, showing off his big low-hanging balls bouncing up and down, as well as showing his virgin asshole and beautiful bubble butt!
There is also something special in this video: an underwater action camera which caught some amazing shots of this horny hot daddy as he was spreading his ass and swimming with his huge cock fully erect. Then there is the usual assortment of activities that we can expect from an Islandstuds update, such as doing the chores in the garden fully naked and, of course, jerking off that beautiful piece of manmeat of which he's rightly so proud about.
Jason is completely smooth, his height is 5'8", and he weighs in at 160 lbs. He is a friendly dude with a sexy military buzz cut and magnificent surfer tan lines. He also has quite a bit of tattoos on his body, and he was happy to explain in detail the meaning of each and every one of them in the interview – including the names of his two daughters which are tattooed on his neck!
Then Daddy Jason proceeds to explain how he learned that he had a really big fat cock while he was in the military. "I had the biggest cock and balls in our Platoon!", says Jason with a proud cheeky smirk on his face. Then we can watch him skimming and cleaning the swimming pool naked. His 9-inch cock and big balls dangle and bounce around in all directions while he's working nude under the sunshine.
Butt lovers should not miss this video as it contains some really hot scenes of this Hung Daddy showing off his rear end. When he got tired of working at the pool, Jason climbs on a pool raft to rest in the sun. He takes a nap and then grabs his firm ass cheeks with both hands and spreads them wide open!
He then goes into the water and jerks off his big dick to full erection underwater. His cock stays upright while he turns around to show us again his perfect ass. He pushes his cock and balls between his open legs while showing his pink manhole again. There are definitely some great shots of this hot mature daddy underwater!
He gets out of the water and, still horny, drips dry standing in the lush Hawaiian Garden and strokes his dick. When he's again fully erect, he gets a Hawaiian Flower Cock Lei to fool around with. He puts it around his throbbing rod and continues stroking it. Then of course, it's time to take a piss. It's hot to watch his pee falling out of his giant cock and falling on the grass in the garden. Then finally, it's time for the main jerkoff session! Jason wasn't particularly gentle with his cock – he manhandles it in every possible way and from every angle, while camera captures everything in closeup shots. When he's about to shoot his wad, he moans with pleasure and then delivers a massive creamy load!
After that, it's time to take a good old Outdoor Hawaiian Shower, which was in itself a great scene to watch. He soaps up his half-hard dick and bubble butt, and then opens the cheeks again to show us his asshole once more!
Preview video:
Click here to watch his entire movie in HD quality at Island Studs!
Island Studs is a great, new, and refreshing porn site that features hot guys from Hawaii. These bad boys have no problem with showing off their beautiful, toned body and hard cock. Watch them as they do their usual chores against the stunning backdrop of Hawaiian nature!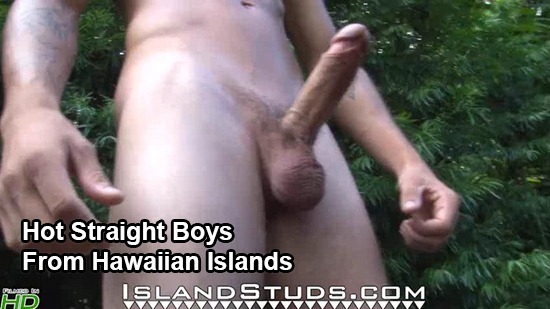 :Army Veteran, big cumshot, big dicks, Daddy Jason, Ex-Military, father, huge cock, jerking off, low-hanging balls, muscled, nature, outside, pissing, smooth body, straight men, surfers, tattoos, thick cock, underwater, working in garden