by Ben Daniels (Admin) on Mar.15, 2019, under Island Studs
Hawaiian Micha is back, and he is now hornier than ever! Micha is a very cute Hapa Hawaiian Undergrad, with hairy body and sex drive that is permanently in overdrive. He loves to surf and have a good time in nature. This video shows him walking around the property with his cock fully erect, carrying the garden hose and fooling around at the camera. There's also footage of Micha as he pees in the Tropical Garden with his cock erect, then we get to watch him as he scrubs the deck, shows off his cute bubble soccer butt and bush between his legs, as well as his nice and smooth ass. He then proceeds to stroke his manhood until he shoots an intense and explosive creamy load, which is followed by another hot scene where he takes a nice long soapy shower outdoors.
Micha's first appearance on Islandstuds happened some time ago when he appeared together with his best buddy Jeffrey. There is a "Hot Duo Action" video with them now on Islandstuds as well, so check it out! These two guys went on a public beach butt naked and played frisbee and then stroked their cocks together. Micha returns for this particular shoot alone, saying "I'm looking for more confidence in myself" as a solo model in the second shoot.
Micha's body is very fit and well-built: tight and muscled surfer's body with a nice area of chest hair between his pecss, furry belly and furry crotch and very hairy legs. His butt is smooth, however, and there's a healthy tuff of butt crack hair between his ass cheeks. And how could we forget to mention that beautiful thick cock that happily hangs between his hairy thighs!
Micha is only 21 years old, his height is 5'9" (175 cm) and he weighs in at about 140 lbs (63 kg). He is handsome, well-educated, polite local boy – in a word a true Hawaiian Hapa (which means one part Hawaiian and one part Puerto Rican, Filipino, Portugese but at the same time All American – fantastic ethnic mix!). Sexy straight Micha was born on Oahu, and he speaks like a local Hawaiian, which is no wonder since he was born and raised on the Islands. We get to hear him speaking about the importance of Hawaiian tattoos on his body, and why he particularly likes "Wrenching Cars" in his spare time and works part time at a burger joint with his best buddy, Jeffrey. We immediately pictured sexy Micha totally naked and cooking the burger that we ordered at the restaurant where he works!
He says that he surfs pretty much every day when he is not in Class. He was not shy to take off all of his Student Clothes and show us his hot surfer body. He moons the camera in a humorous way, and soon enough he's totally naked. His cock soon becomes rock hard, without him even touching it! We see him standing in the warm sun and wanking his fully erect cock with both hands, switching it between his hands, while smiling cheekily at the cameraman. After that, he goes to take a long intense pee. That fire hose piss blasts onto the ground with quite a strong force. Micha says that he had never worked outdoors naked before shooting this video. He then collects the garden hose and wraps it around his naked upper body while his cock is still up and throbbing like mad.
While he walks around the property we get to see his firm bubble butt and hairy ass crack. He takes the garden hose to the deck just beside the Koi Pond. In the popular "Naked Worker Series", Micha is given the task to scrub the deck! And boy, does he get all wet and dirty while doing that! His cock still fully hard as he's doing these chores – there's no denying that Micha is one super horny Hawaiian boy! After the work with the deck is over, Micha goes to the outdoor shower to clean up. But there's only one thing on his mind – how to shoot his load ASAP. So, after the shower, he sits down on a chair in the garden and starts to stroke his dick. He's not gentle with it by any means, manhandling it in quite a rough way. He obviously loves to stroke his cock very slowly, to take his time, as well as to stroke it very fast. So he switches between these two "modes" as he goes along. Micha is actually very proficient in various jerking off techniques, and he was happy to show them to us. Some of them are his inventions that he perfected over the years!
As he's approaching the point of no return, Micha starts to moan and then he shoots his load. His cum sprays out of his cock in all possible directions and the majority lands on his hairy stomach, hairy thighs and balls. He then stands up to show us his hot jizz oozing down from his body and leaking out of his still throbbing cock onto the ground. His hot soapy outdoor shower is really a great scene and one that should not be missed! He was all the time in good cheer and playfully soaping up his body, hard dick and ass crack. He even spreads his ass cheeks to give us a better view of his manhole in the shower – his dick still hard!
There is something also for feet lovers, because Micha takes time to meticulously clean his both feet with a shower brush! While he's doing that we can also take another good look at his bubble butt because he has to bend over with his feet on the shower bench. We have to say that we are enchanted by this handsome, polite and very Hawaiian boy – his amicable, friendly Aloha spirit will definitely warm your heart and his hot body will get you horny and hard in no time!
Preview video:
Click here to watch his entire movie in HD quality at Island Studs!
Island Studs is a great, new, and refreshing porn site that features hot guys from Hawaii. These bad boys have no problem with showing off their beautiful, toned body and hard cock. Watch them as they do their usual chores against the stunning backdrop of Hawaiian nature!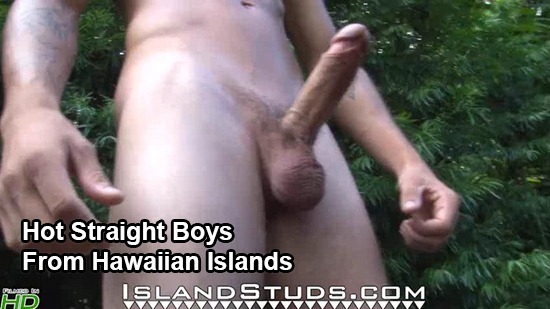 :always horny, big dick, goatee, hairy chest, hairy legs, Hawaiian, jerking off, Massive thick cock, Micha, shower scene, smile, straight men, stroking cock, washing feet, well-built body, working in garden, working outside