by Ben Daniels (Admin) on May.25, 2017, under BaitBuddies
Javier Cruz is always on the lookout for some new straight boy whom he can seduce into his bed… and judging by his new image, he's looking better than ever! His new haircut is crazy, he's sporting a bigger beard and his great uncut cock is ready to spring into action, as always!
Javier's ass gets pounded pretty frequently lately, but unfortunately not very often by straight guys… which is the reason why he got into contact with Caruso again, asking him to find some new straight specimen for him ASAP.
Brogan is a hot, masculine straight 30-year-old dude who thought he was applying for a straight porn shoot, where women would abound. His chest and abs are properly chiseled, he's got nice hazel eyes, black hair and his 7-inch dick is always hard, stiff and upright! When he's not banging some lucky chick in his or her apartment, he's busy lifting the weights in the gym. He's very much into women's big asses and big tits, and definitely not into guys and cocks. However, as life usually doesn't give us what we want, this strong muscular man was offered double the money if he agreed to fuck Javier's tight inviting ass.
After the usual story with the missing girl, the guys are offered double the money if they agree to fuck each other. Brogan is somewhat taken aback at this news, but his cock wasn't offended in the least and so he proceeded to make out with Javier. Of course, Javier couldn't get enough of Brogan's hard stiff dick and wasn't sure if he needed it more in his mouth or ass… but anyway, it's a hot fuck scene for sure, and we hope to see more of Brogan in the months to cum!
Click here to watch their complete video in HD quality at Bait Buddies!
Bait Buddies is a pretty hot straight guy site with plenty of updates and some very hot guys indeed. There is always a "bait" dude who is bi or gay, and a straight (or sometimes "straight") dude who needs to be seduced into gay sex.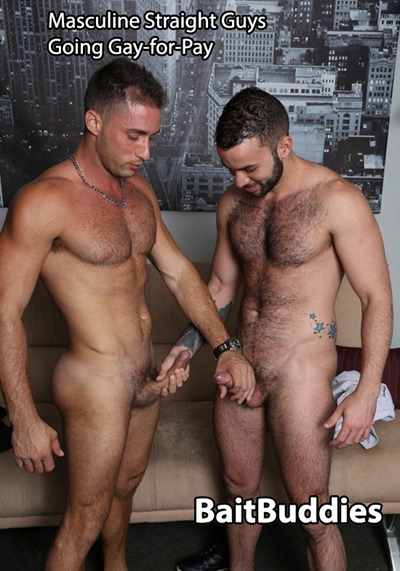 :beard, big dicks, blowjob, Brogan, gay for pay, handjob, hardcore fucking, Javier Cruz, masculine men, stiff cock, straight men, straight to gay, upright cock