by Ben Daniels (Admin) on Mar.07, 2019, under TheCastingRoom
Danny is a cute and handsome guy who wants to make it big in the porn biz. He's more of a bottom boy, but he can be a top if need be as well. Danny is pretty much on the innocent side as far as sex is concerned. He had never had any extreme experiences, just regular non-aggressive sex. Dave from TheCastingRoom wanted to test out Danny's abilities by subjecting him to a full-scale hard fucking with his sizeable cock. Danny tells us in the interview about his sexual fantasies and what he'd like to do, not realizing that Dave intends to do all of that just then and there!
Dave takes off all his clothes and starts to kiss Danny in the French-kissing style. He shows us Danny's beautiful butt and tight arsehole, and then orders Danny to get on his knees and suck his big cock. Danny's cocksucking abilities are thus put to the test. Danny has some experience with big cocks, obviously, because he can control his gag reflex pretty well. Danny even manages to deepthroat Dave's big fat dick so well that he can bury his nose in Dave's pubes.
Dave then bends Danny over the table and starts to kiss and tongue lash his exposed asshole. When it's properly slicked up, Dave pushes his cock into that hole and starts fucking Danny nice and hard. Pay attention to Danny's utterly shocked face when Dave's entire cock gets shoved into his ass! And make no mistake, it was not a shocked face because of pain, but because of pleasure.
The guys then switch places so that Dave can suck Danny's cock for a while, while Danny is on his knees and stroking his cock at the same time. It's true that Danny is a true versatile guy, and he can play many different roles in various films in various roles, so that's definitely good. But we think he looks best when he's on the floor and staring at the camera with his big blue expectant eyes and then receiving a big serving of warm jizz!
Click here to watch his entire video in HD quality at The Casting Room!
The Casting Room (formerly known as First Auditions) is a great, original porn site that showcases young, cocky straight men who would like to become porn stars and make loads of cash. They think that they'll be accepted right away and be able to fuck lots of girls, but they don't know that our casting director is very strict and wants to fully inspect them during the audition. He orders them to get fully naked, show their ass, and jerk off so that we can clearly see the cumshot. Plus, we get to hear all their fetishes and what turns them on.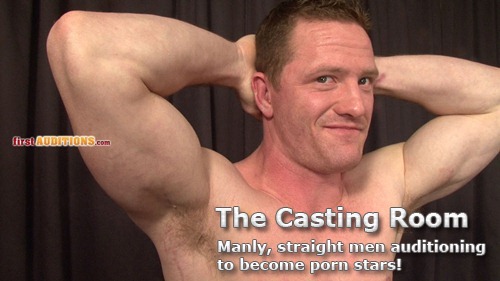 :beard, blowjob, cute, Danny, Dave, facial cumshot, first audition, fit body, fucking, handsome, versatile