by Ben Daniels (Admin) on Dec.24, 2018, under Chaosmen
This shoot with Aidan was beset with difficulties in the beginning. The first guy that was supposed to shoot with Aidan got a new job with 4-day training that effectively prevented him from arriving on time. The second dude was up for it, but his work schedule was inflexible and he just couldn't make it either. The third guy had to wait for some post delivery that was running late.
Ransom, being an old buddy of the Chaosmen's owner, volunteered to pick up Aidan from the hotel while they were waiting for the third guy to show up. The time was approaching for Aidan's return flight home, and Aidan just said straightforwardly that he'd rather fuck with Ransom than with any other dude. Ransom sent a text message to the Chasomen owner and added that he was actually in the mood to get fucked by Aidan. And so these two studs were paired, and nobody can say there wasn't pretty good chemistry between them!
Ransom got a little bit out of practice when it comes to getting fucked, since it had been a while. But Aidan was nice, gentle and went easy on Ransom. Ransom had to ask him occasionally to slow down. We thought Ransom was hurting, but no – he was concerned that he would cum too soon!
So Aidan shoots his load first, covering Ransom's asshole completely with his jizz. Ransom soon follows suit and shoots his load as well while Aidan is still inside him.
Preview video:
Check out their entire video in HD quality at Chaosmen.
Chaosmen is a great porn site that features hot straight and bi men getting serviced or fucking their mates bareback for some cash. This site is exceptional and very unique because almost every single fucking is bareback and ends with a gorgeous internal cumshot or creampie.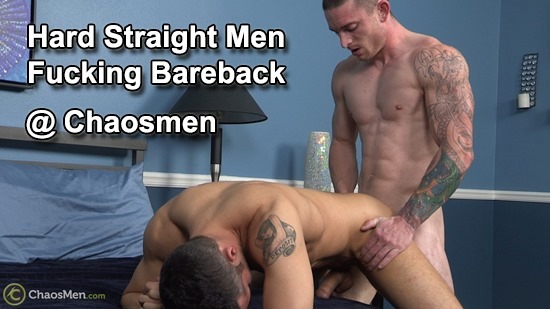 :69, Aiden, bareback fucking, beard, big dicks, blowjob, Breeding, fuck the cum out, kissing, muscled, ransom