by Ben Daniels (Admin) on Jun.07, 2019, under Island Studs
Mark is a handsome, very hairy Graduate Business Student at University of Oregon. He's also a devoted rock climber and yoga advocate. Mark used to be a Conservative from a large family of devout Christians, but lately he changed his views on life. He sports a long 8-inch cock, a lean and well-built body, 8-pack abs and hairy butt – which he also didn't mind showing off for the camera!
It was great fun to film Mark while he was flexing his muscles, posing naked, lifting weights totally nude, taking a long piss in the Oregon mountain forest and telling many of his private stories that involve sex in one way or another. So, for example, Mark tells us that he was a virgin until he was 25, which had a lot to do with his conservative upbringing. He then sits in the chair and shows us his 8-inch hard cock, strokes it and rubs his balls… this of course ended with Mark moaning loudly and shooting his load all over his hairy balls.
This is Mark's second time that he appears on Island Studs, his first time was with his equally hairy friend, Andre, in the video called "Naked Frisbee". Check it out by joining Islandstuds now and you can watch all of Mark's videos, as well as all the other videos on Islandstuds!
Mark is 31 now, his height is 5'11" (180 cm) and he weighs in at about 155 lbs (80 kg) of lean muscles. Mark says he's always horny, as evidenced by his almost perpetually hard 8-inch dick, which, may we notice, is perfectly shaped. His body is hairy from head to toes! He wears a sculpted beard, his chest is covered with fur, as are his abs, legs, armpits and crotch. This man is hairy, period! Mark is also a very well educated guy, has a friendly personality, but he had a difficult childhood and adolescence because of his strict Christian family. He grew up with three brothers (Mathew, John and Luke). Their family believes that it's important to abstain from sex before marriage, and jerking off was also shunned upon and treated as a sin!
Mark considers himself now a "Recovering Christian" and he tells a story about him standing naked and with his rock hard cock in front of two naked Spanish girls, who were standing on their knees and begged him to suck his big cock when he was 23. He had to defend himself from their advances by saying "No, please, I am too Christian for that!" Two years after that, however, he did lose his virginity, when he was 25, and it also happened in Spain. It was with a girl who was fascinated by the size of his cock and by his skill in how he could use it. She told everyone about Mark and his big dick, and finally Mark decided to give it to her for real!
Mark says that his current girlfriend is quite liberal and she knows that he has come there for this nude video shoot. He came wearing  his usual college clothes, crisp green jeans and dark blue shirt. He takes off his jeans, and remains only in his very tight blue undies. He moons the camera and then slowly removes his underwear as well. Finally we can see and appreciate his beautiful 8-inch hard cock, lovely balls and hairy ass while he's jacking off his cock in the forest totally nude.
He then shows us his hairy armpits, his manhole again and then begins to lift weights. It was so much fun to watch him doing that! His cock stays hard as he's lifting weights, and his balls dangle between his hairy thighs while he's working out. He finds it difficult to abstain from touching his cock, which remains hard throughout most of the shoot.
Mark then does some chest presses with the barbell, and in the process reveals his pink manhole, while his balls again dangle between his legs. Can't beat that sight! He then finds a nice cozy place to take a long piss. He finds an elevated hill and turns to the camera while releasing a long golden shower on the ground!
Still quite sweaty from the workout, Mark sits down in a chair and proceeds to stroke his cock. He still continues to flex his muscles and keeps stroking his dick. And smiling all the time! And then after some time, Mark shoots an explosive load of thick white jizz all over himself, making a big sticky mess everywhere! He is proud of his big cumload and shows off to the cameraman all the jizz he just shot. He then goes into the shower to wash it all away from his hairy body. His soaping scene is so sexy as well! All those sudsy soap bubbles as he lathers up his whole body… very sexy indeed. Also when he grabs his ankles, probably demonstrating some extreme Yoga position. He shows us his hairy ass again, this time covered in soap bubbles.
Mark is a great addition to the ever growing stable of hot hairy men at Islandstuds. It's definitely worth checking him out!
Preview video:
Click here to watch his entire movie in HD quality at Island Studs!
Island Studs is a great, new, and refreshing porn site that features hot guys from Hawaii. These bad boys have no problem with showing off their beautiful, toned body and hard cock. Watch them as they do their usual chores against the stunning backdrop of Hawaiian nature!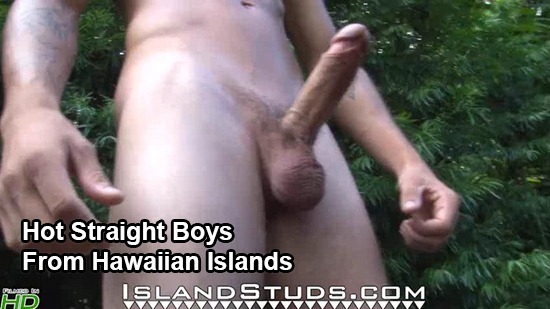 :8-inch cock, beard, big cumshot, hairy chest, hairy legs, jerking off, jock, Mark, Outdoors, outside, smile, straight men, taking a piss, taking a shower