by Ben Daniels (Admin) on Aug.12, 2019, under New York Straight Men
Today we're going to revisit one of the classic blowjob videos from Newyorkstraightmen. At that time, Marco was a brand new cocksucker who applied for the job and the first thing he said he wanted to do was to service a hot daddy stud with a huge uncut dick. Well, one can't argue with a request like that! Luckily for him, hairy masculine daddy Oscar just happened to be around and needed a good, obedient cocksucker who could service his huge fat cock.
Of course, that was a match made in heaven, and as soon as Marco saw Oscar, he fell on his knees and started to worship Oscar's sizable manhood. Oscar has a full bush on his balls, which is something that Marco is especially fond of when it comes to cocksucking.
Now, Oscar had a few rules that Marco had to follow if he were to suck his cock: Oscar fucks a pussy or he fucks a mouth, and in both cases he wants to cum inside. No pulling out, and no handjobs! He didn't have to say this twice, as Marco was all too happy to abide by the rules.
Marco started slowly, taking his time to worship Oscar's big fat dick. That is exactly the way Oscar loves his blowjobs: slow, wet and passionate. At some point Oscar starts to face fuck Marco pretty hard, but Marco loved it and so did Oscar. You can tell when a cocksucker knows his job!
Oscar rewarded Marco with a huge load that was delivered straight into his mouth! At first, Marco wanted to swallow it all, but he couldn't. Some of the load he had to let leak out over his hands and eventually it landed onto Oscar's hairy dick. And although Oscar prefers when the cocksucker swallows every drop of his load, he was so satisfied with Marco's blowjob that he didn't mind a few drops of his own cum on his pubes. Oscar indicated that he might be back for another hot blowjob, and then went to his home on that super hot steamy summer afternoon.
We made sure to include quite a bit of this blowjob in the EXTENDED PREVIEW VIDEO below, so if you like these NYSM blowjobs, you should definitely check out the entire video at their website.
EXTENDED PREVIEW VIDEO:
Click here to watch their entire video in HD quality at New York Straight Men!
New York Straight Men is the world's biggest collection of straight men getting their blowjobs from gay dudes! These men are usually truly straight but they love getting head from a gay guy because it feels so much better than whatever their girlfriends can do. These men are not the Hollywood type cuties, they are Real Men!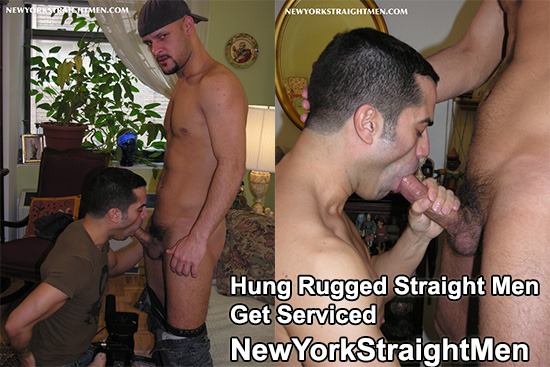 :beard, big cumshot, blowjob, bushy pubes, cocksucker Marco, hairy chest, hairy legs, huge cock, masculine daddy, Massive thick cock, mature men, Oscar, Serviced, sucking off, swallowing load