Today we're going to revisit yet another of those great, classic blowjob videos from Newyorkstraightmen. We've already seen Ramsey a couple months ago (check out his previous appearance here) when he was serviced by the then new cocksucker Christian. Well, the news about this hot, hairy and very masculine straight man soon began to spread among the New York cocksuckers, and before you knew it, everyone wanted to get a taste of Ramsey's cock!
In this video, Ramsey had just come back home to the city after having spent several weeks upstate where he was doing his annual training exercises for the National Guard Reserve. He came back with the clean cut hair and extremely horny! Ramsey says that he was so horny that he decided to put this blowjob as his first priority! His balls were so full of cum that they badly needed a "ball-draining blowjob". Of course, that was no problem because just as luck would have it, there was a great resident cocksucker around on call that weekend, and Ramsey said he would like to try him out.
The accumulated jizz in Ramsey's balls made him arrive relatively early for his blowjob session. He was really eager to test this new cocksucker who went by the name of Sergio. Ramsey told Sergio how exactly he would like to get his cock sucked, and Sergio promised to follow Ramsey's instructions to a tee.
Sergio made sure to suck and deepthroat Ramsey's big fat cock just the way Ramsey instructed him. We loved seeing Sergio with Ramsey's cock buried in his throat and his nose buried into Ramsey's hairy bush and balls. Ramsey had no complaints about Sergio's masterful cocksucking skills and performance. He adds the totally loved when his hairy balls bounced off of Sergio's chin.
When Ramsey was just at the point of no return, he shot a nice load all over Sergio's chest. When he was about to leave, Ramsey said that Sergio should be kept as a resident cocksucker because he wouldn't mind using him again.
We made sure to include quite a bit of this blowjob in the EXTENDED PREVIEW VIDEO below, so if you like these NYSM blowjobs, you should definitely check out the entire video at their website.
EXTENDED PREVIEW VIDEO: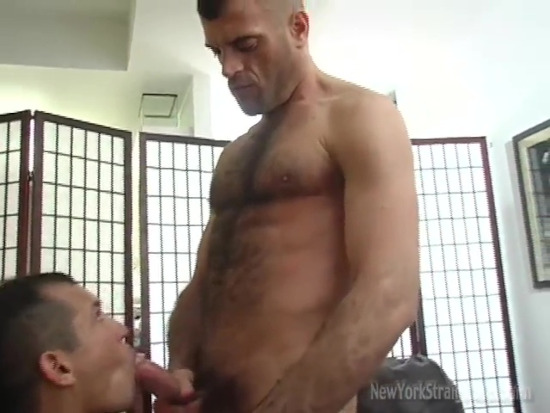 Click here to watch their entire video in HD quality at New York Straight Men!
New York Straight Men is the world's biggest collection of straight men getting their blowjobs from gay dudes! These men are usually truly straight but they love getting head from a gay guy because it feels so much better than whatever their girlfriends can do. These men are not the Hollywood type cuties, they are Real Men!