by Ben Daniels (Admin) on Oct.04, 2019, under Keumgay
We've already seen Marc on several occasions. This sexy and big-dicked insurance agent is totally straight but also very curious about everything that is related to sexuality. When he was sitting in the Keumgay studios recently to have some documents signed he noticed that the room was full of cameras, lighting and other equipment.
Marc was very curious to find out what it was used for and so he asked naively, "Are you guys photographers?" They smiled and replied with "Yes, we are".
"And what kind of pictures do you take?" Marc continued to inquire… you can guess easily how the story unfolds.
Some 30 minutes later sexy dude Seb joined Marc on the couch and started making moves towards Marc. Marc was a bit nervous, however, his curiosity was stronger and he just had to see how it feels to get his cock sucked by a guy AND to suck a dude's cock as well.
And like every caring and friendly neighbor, Seb made an effort to please Marc in every way possible. It looks like Marc was not only impressed at how Seb was good at sucking his cock, but was equally blown away by how great it was to suck Seb's big thick dick, too! Actually, Marc got carried away so much while sucking Seb's massive dick that he couldn't stop, and the director became concerned that the guys would cum too soon!
This is truly a great video with two handsome guys who have huge, thick cocks. They are both on the new territory and exploring their sexuality (although Seb has a bit more experience), so if you're into hot hung straight guys who are not afraid to experiment with men, especially in a friendly, sensual manner, you're definitely not going to be disappointed with this video!
Preview video:
Click here to watch or download his entire video in HD quality at Keumgay.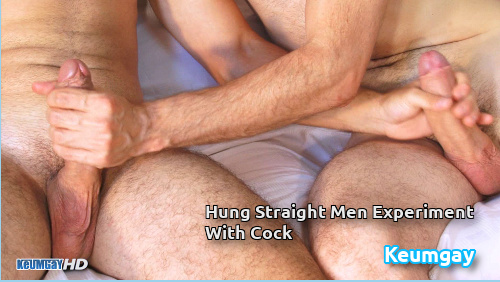 :beefy, big dicks, handsome, insurer, Marc, mucled, Mutual Blowjob, Mutual jerkoff, Seb, stiff dick, straight men, straight to gay, stubble, thick cocks, uncut dick