Being in the Army can be demanding and exhausting, so Jack Greyson and Julian Brady cherish every moment of spare time that they can find. When they're not on duty, these hunky men like to spend their time sharing a mutual jerkoff. When Julian asks Jack whether he would want some help, Jack's weapon instantly rises from half-mast to full attention!
Julian expertly sucks and deepthroats Jack's dick, slobbering all over it greedily and lustfully. Jack returns the favor with gusto. Julian was really excited and worked up that he even asked Jack to slip his cock in for just a second. When Julian's hole gets a little more stretched, Jack really goes to town and gives Julian a really good hard pounding with his raw cock! The guys fucked in several positions, and Jack really takes Julian's ass on an unforgettable ride! He easily manages to fuck the cum out of Julian, and then shoots his own load shortly afterwards. What would we do without these troopers!?
Preview video: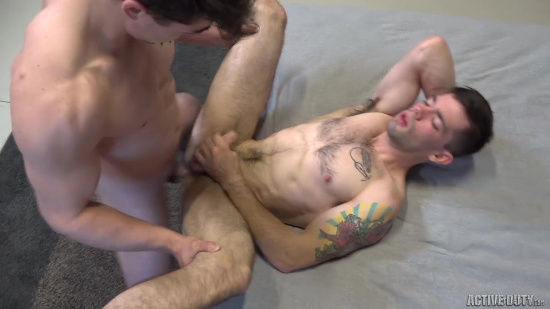 Click here to watch or download their entire video in HD quality at Active Duty!