Christian has become the fan favorite stud on Beefcakehunter, so much so that he was given the official Mr. Beefcake 2018 award. Many fans wanted to see him back once again, but Victor couldn't contact him in some time. Then one day Christian called Victor just to see how he was doing. Unfortunately, Victor missed that call and the meeting was postponed once more.
After several more missed opportunities, Christian and Victor managed to agree on the next meeting. Although that wasn't Christian's first video on the site, he was still very nervous. And even Victor became nervous, albeit due to a different reason – namely, he was so excited about servicing this hot sexy stud and getting his mouth again on that huge fat cock, that he became a bit too excited!
Victor told Christian that he had been awarded the prestigious Mr. Beefcake of the year 2018. but that didn't help much in alleviating his shyness and nervousness. Nevertheless, Christian's cock remained immune to the general nervousness and was quick to rise to the occasion!
Victor got on his knees and was immediately attracted to Christian's sexy masculine chest. It is somewhat hairy and perfectly built. It seemed that Christian put on some more muscle and beef on his torso, when compared to his previous video. Although his cock responded fairly quickly, it took Victor some time to move Christian into "the zone". When he finally did, Christian's breathing intensified and he started to enjoy the blowjob. Victor was so greedy for Christian's cock that he spent quite some time just servicing his cockhead.
Christian is among those guys who need some helping hand in order to cum during the blowjob. So Victor used his hands, in addition to his mouth and throat. As soon as he did that, Christian started to beg him not to stop, and the next moment he shot a big thick load directly into Victor's wide open mouth.
Preview video: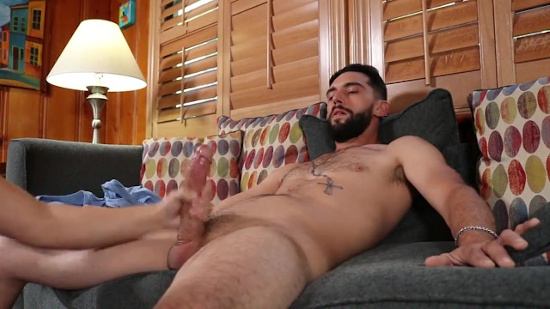 Click here to watch or download his entire video in HD quality at BeefCakeHunter.