We've already seen hot straight guy Nicholas (check out his first appearance here). But that was actually his later recording. This is Nicholas' first appearance on Keumgay. It was conceived as a test blowjob, and it was supposed to be a recording only for the studio staff. But, nevertheless here it is released for the public for the first time ever.
Nicholas is a real straight guy and he is a professional football player. He plays for Vincennes on Sundays and he's currently single. He is a smart dude, but is known to be a bit more aggressive on certain occasions, so it's wiser not to get into any arguments with him!
Nicholas is a confident guy, and he knows what he wants in life. He doesn't let anyone dictate him what he should or shouldn't do in his life. The Keumgay director thought that the blowjob didn't go exactly as planned, so he wanted to scrap it, but Nicholas said he didn't have any regrets about it! He added, "It was something I wanted to try!"
So the next time when he came for the blowjob, he was wearing his full football uniform. He is very muscular and his entire body is built like a fucking tank! His face is masculine and he's got a stern look in his eyes. Although completely straight, he said he wanted to try to have a gay massage and blowjob, and that's what he got.
Nicholas' dick is pretty big and thick, and his balls are also quite big and full of cum. When he started to ejaculate, he was spraying powerful squirts of jizz. He made it abundantly clear that he is completely straight, not even bi, but he wanted to see how it feels to be sucked off by a dude. We think this video is interesting because it shows a kind of internal psychological struggle within a straight guy who on one hand wants to experience something new and untried, and on the other is fighting against his preconceived notions about gay encounters.
Nicholas' face blushes when the assistant swallows his cock, and stays red with shame until the end of the shoot. The shoot was supposed to be just his solo jerkoff session, but the assistant offered a free blowjob, and Nicholas thought it would be wrong to refuse something like that. Besides, he was already close to cumming at that point. The cum-explosion was inevitable, and the cocksucker assistant was all too happy to be of service at that crucial moment!
Preview video: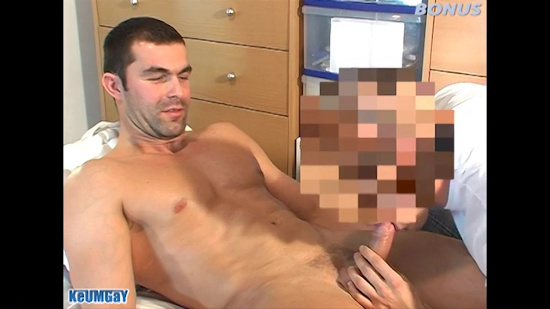 Click here to watch or download their entire video in HD quality at Keumgay.