Like so many straight guys, Devon was a little nervous in the beginning. He's young and his body is nicely toned, with quite  bit of hard muscles. He looks like a "smooth operator" – a guy who doesn't talk much, but does his job perfectly. The director tells him to take off his clothes, piece by piece.
As his cock becomes fully erect, Devon's nervousness slowly dissipates and he becomes focused on stroking his strong thick cock. From time to time, Devon looks straight into the camera, and this looks pretty hot. He changes the hand with which he strokes his cock, and his focus is by now completely on his dick. While he's jerking off, his heavy balls are going up and down quite a bit! We can even hear his balls slapping against his thighs as he's going faster and faster towards the grand finale. And then he stops and shoots his load!
Preview video: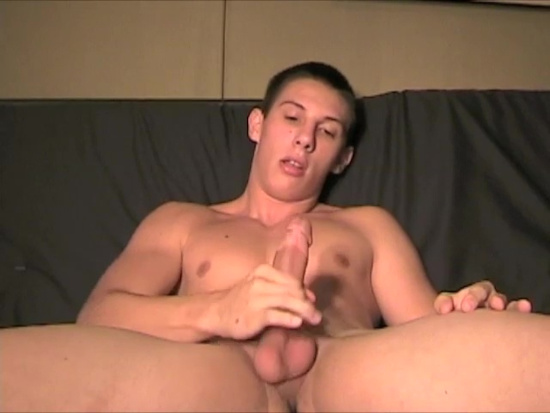 Click here to watch his entire video in perfect HD quality at Straight Fraternity!
Straight Fraternity is a great site that features hot and horny straight amateur guys. The guys here are funny, cool, and entertaining… and of course hot as hell… I'm sure you'll enjoy watching their antics! The site authors really love to show cumshots and if you're a cum lover, you will like this site.