USMC Private First Class Chandler is a 18-years old straight guy who hails from Illinois. His height is 5'10" (178 cm) and he weighs in at 155 lbs (70 kg). Major Wood conducts an interview with our military man and asks him whether he played any sports in high school. Chandler jokes about not having been "coordinated enough" for sports, but admits that he did take part "in some illicit activities" with a cute girl a few houses down the street.
That girl became his first sexual experience, and he was pretty enthusiastic when he was telling us about his whole relationship with her. There was also a hot 3-way experience that he participated in somewhat later on with one of his buddies from high school and with a girl they both knew. Chandler adds that "we were pretty good buddies… and she was all about it!"
The pervy Major tells Chandler to take off his clothes and to show off his nicely toned and worked-out body for the camera. Chandler's pretty thick cock was already hard. He played with it and stroked it, applying a lot of lube on it all the time. Eventually, Chandler shoots a nice, thick, creamy load all over his tight stomach.
Preview video: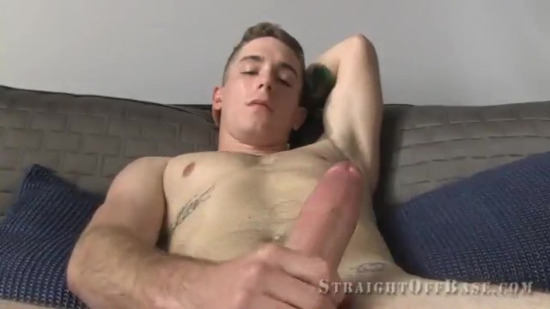 Click here to watch his entire video in HD quality at Straight Off Base.