Victor from Beefcakehunter says that he has been craving a big, thick, dark cock which he could suck for a while. There's something special, a particular energy if you will, when you're faced with a huge dark dick like that. Thankfully, young married guy Kameroon applied for an audition and, as you may imagine, he was promptly accepted! Victor admits he was so overcome with lust that nobody could ever keep him away from Cameroon's magnificent stiff dick. The blowjob lasted for almost 30 minutes!
Kameroon is a masculine, beefy, mixed construction worker with a very attractive skin color that gives him an extra dose of sexiness. His destiny led him to become the center of a love triangle and now he's expecting his second child soon. When money is tight, straight guys discover the benefits of gay blowjobs, which is fine – it's a win-win situation!
At first, Victor was curious about Kameroon's love life, but when he learned that things were a little more complicated than usual, he decided to put that off for some other occasion. What couldn't be put off for any other time, however, was Kameroon's huge cock and that amazing body with thick, strong hairy legs, big chest and broad shoulders, massive arms, six pack abs, yummy big balls… and, of course, that cock was so tempting that Victor spontaneously dropped on his knees as soon as he saw it!
So, Victor starts by licking Kameroon's balls, and for some reason he thought it would take him a long time to get hard and, especially, to get "into the zone". However, it seems Victor hit just the right spots and Kameroon's cock got hard in record time! Kameroon may be a man of few words, but his cock speaks volumes! When he found himself between Kameron's massive hairy legs, Victor kind of lost himself there, and Kameroon seemed to notice it. Kameroon definitely enjoyed all this, especially such an expert mouth to take care of his stiff cock.
It was rather obvious that Victor was very much into licking his balls, so Kameroon decided to start stroking his dick while Victor was busy with his cojones. After a few moments, Kameroon shoots his load straight into Victor's mouth. Victor made sure to first show it, then he swallowed it. Unfortunately, some of his jizz fell on the couch… such a loss!
If you like Kameroon's blowjob, please consider joining Beefcakehunter. And for Kameroon's fans we have good news, too: He is soon coming back for some new adventures!
Preview video: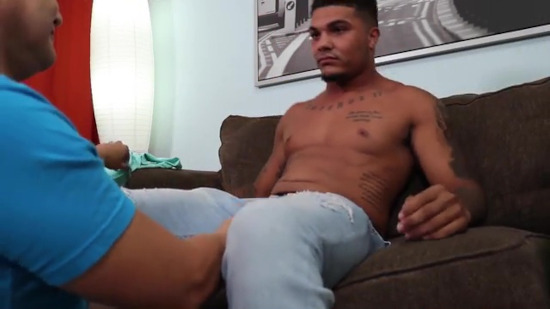 Click here to watch or download his entire video in HD quality at BeefCakeHunter.