Miller is a hot, masculine Marine with insatiable sex drive and a big almost 9-inch dick. Rob from Militaryclassified found his ad on Craigslist where he was trying to hook up with girls. Like so many other Marines, Miller wants to fuck as many chicks in his lifetime as possible. Rob lives about 20 minutes from the north gate of Camp Pendleton and he often offers these sex-starved (and money-starved) Marines some cash at a discreet place near their base to suck them off or even for anal sex. These Marines are usually very cooperative in such combinations and gladly agree to make videos like this one. It didn't take too much convincing for Miller to agree to a blowjob. This was Miller's first time to get a blowjob from a dude, but he wasn't nervous and the whole thing went pretty smoothly, as we will see.
Rob first conducts a short interview, which makes Miller feel more relaxed. Miller is a chain-smoker and I guess he was already pretty relaxed just from non-stop smoking his cigarettes! Although Miller is just 5'5" (165 cm) tall, he sports a giant cock that measures almost 9 inches! It really looks huge on his small-sized frame. Rob was so greedy for that big cock that he couldn't wait to kneel before Miller and start servicing that beauty beast! First, Rob devotes due attention to Miller's balls, then tongues his shaft and finally comes to the big mushroom cockhead. He swallows the cockhead and begins to deliver the blowjob. At first, Rob's sucking is slow, but as he gets going it becomes faster and more intense. Miller couldn't believe that guys could suck cock so well because he was on the verge of cumming throughout the entire blowjob!
The nervousness never leaves him completely, but Miller manages to relax somewhat and actually enjoy the blowjob. He later admitted that he was confused because he had thought that he could never enjoy blowjob from a guy, and the quality of this blowjob was so outstanding that he could hardly believe it. Totally amazed, Miller had to confess that it was just something he wasn't used to.
In the final phase, Rob tells Miller to stand up so he can service him from that position. While standing like that, Miller took Rob's head with his hands and kept face-fucking him with his 9-inch cock, sticking it deep into Rob's throat. Eventually, Miller couldn't hold it any longer, and without much warning he just leaned back with his head and shot a big load – most of which Rob caught and swallowed, although some of it fell on his face and mouth. Amazing first proper blowjob for this guy!
Preview video: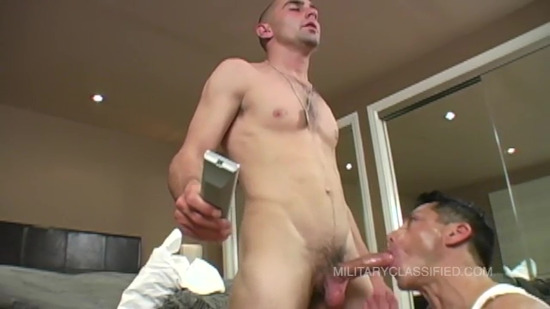 Click here to watch or download his entire video in HD quality from Military Classified!
Military Classified is a well-known straight guy site that features lots of military men (marines, navy men, Air Force servicemen and an occasional civilian guy as well). At the moment of writing this mini-review there were more than 420 videos of various guys in the content area of the site! Of course, the guys are always horny and eager to bust a nut. While for some the primary motivation is money, there are also many guys that are curious to see for themselves if it's really true that men suck cock better.