Sometimes the rough dominating men that work here are lucky enough to deal with real masculine studs, such as is the case with Guy. Guy is hairy, muscular and beautifully built man. He exudes manliness and power, and one would expect to see him kicking ass out of everyone who crosses his path, but today he found himself in a desperate position of a captured straight dude who would soon learn a lesson or two in obedience.
He is tied up and thus completely unable to escape or even move much. A bucket is positioned beneath his and he is ordered to urinate in it. You see, we treat these arrogant straight prisoners like cattle.
Dave wanted to check it out how really strong Guy is, so he kicked him with his leg straight in the gut. Guy's ass is flogged and abused in many other ways. The rough dominating man also wanted to check how long it would take Guy to achieve an erection if they tease his dick and balls. Guy is now fully erect and soon enough he's shooting his seed, even though he didn't want it to happen.
Preview video: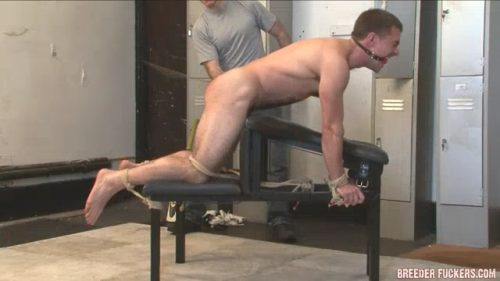 Check out the newest videos with arrogant straight men being turned into obedient cocksuckers at Breeder Fuckers!
If you prefer your porn to be on the kinkier side, you should definitely check out Breeder Fuckers (formerly known as Straight Hell). Breeder Fuckers is a premium fetish site devoted to hot straight guys being tormented, humiliated and treated without mercy by big, mean & aggressive studs!