Rob says that he has been in contact with Coby for a few weeks now and he was eager to introduce this mild-mannered straight military stud into gay sex. Coby is just out of the army and is currently trying to figure out his place in the world. He was curious to learn some beginners things about the whole "gay for pay" thing, and Rob was all too happy to be the tutor! You can bet that after Rob's "treatment", this hot straight guy can't say he's a virgin anymore when it comes to man on man sex. Rob even offered him his own ass to do some practice on it!
Coby originally comes from Florida, but for the occasion he traveled to California for the first time in his life. He felt a little strange that his cock will fuck a dude's ass for the first time, but the negotiations were successful and he eventually agreed to give it a try. After filling out the paperwork, and agreeing about the money compensation, Coby couldn't help but smile – he wasn't expecting that he could make so much money for a simple thing like a blowjob and fucking, which is what he does anyway and does it often.
Once all the paperwork was finished, Coby and Rob went to the bedroom and Rob began to take photos of this attractive, athletic stud. He's quite photogenic. As you may imagine, Rob was so obsessed by Coby's dick that he couldn't wait to get his lips around that straight guy's hard weapon.
Cody may have been a little nervous, but his cock surely wasn't! You can tell that Cody actually enjoyed the blowjob as soon as Rob started to do his magic. Rob is very professional and serious about cock sucking, and he always approaches it almost as an art form. Although Coby seemed to be glued to the screen and immersed into the pussy porn that was playing there, he was obviously observing carefully what was happening with his cock through his peripheral vision. And you know Rob – he was sucking that hard cock as if it were his very first dick in his life!
Rob couldn't resist trying to sit on Coby's dick, and in the beginning it was a side saddle position. You can tell what Coby thinks by observing his face expressions. Then they switched to the doggy position. The whole spectacle looks absolutely great from the floor looking up, Coby's cock looks great as he drives it into Rob's ass. In the end, the guys switch to the side saddle position again. Coby loved the feeling and soon enough he was giving the warning to Rob that he was about to cum!
Preview video: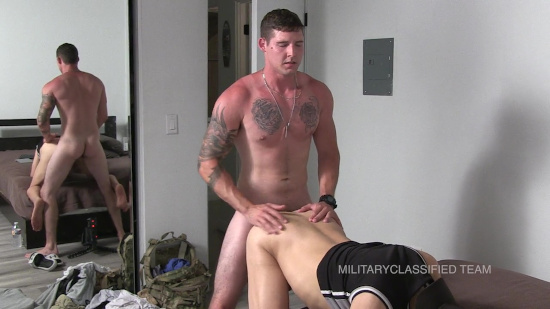 Click here to watch or download his entire video in HD quality from Military Classified!
Military Classified is a well-known straight guy site that features lots of military men (marines, navy men, Air Force servicemen and an occasional civilian guy as well). At the moment of writing this mini-review there were more than 420 videos of various guys in the content area of the site! Of course, the guys are always horny and eager to bust a nut. While for some the primary motivation is money, there are also many guys that are curious to see for themselves if it's really true that men suck cock better.