Clint is a brand new stud on Islandstuds and this is his first appearance in front of the camera. Clint hails from Scottsdale, Arizona, which is where he was born and raised. This big, tall and muscular muscle God was definitely not shy and wanted to show off his amazing ripped body for the first time in front of the camera. He was here in Oregon because he was visiting his girlfriend. He decided to drop by the Islandstuds headquarters to try his luck in porn. An interesting tidbit of information – his girlfriend was responsible for his perfectly sculpted hipster Pacific Northwest beard. She encouraged him to grow such a beard because she thinks it looks very sexy on him.
Clint works as a carpenter on big skyscrapers during daytime, and after work he always goes to the gym. Namely, Clint is a professional bodybuilder and he's always in training for his next bodybuilding contest. He also played a lot of sports while he was in high school. He says that he never played basketball, though, but he did play lacrosse, because – as he put it – he likes hitting people, which he said in a jocular way, with a smile. With such a handsome face and genuine smile he really looked and reminded us of Young Clint Eastwood.
Clint is now 26 years old, and he works as a union carpenter on skyscrapers by day. At night, he goes to the gym to work on his amazing muscular body."I am into men's physique right now for NPC and then IFBB competitions" Clint says with a smile and keeps flexing his powerful biceps.
Being a little pervy and horny spectators of Clint's show-off and jerkoff scene, we couldn't help but imagine this hung muscle God, fully naked and wearing only his hard hat, some 27 stories above the street and working on a new skyscraper with his Union Bros. That's a pretty hot bodybuilder fantasy, don't you think?
But even if that is not going to happen, we can still enjoy feasting our eyes on Clint's amazing bubble butt while he shows off his butt cheeks in front of the camera, wearing only his very tight black and skimpy underwear, which could barely contain his powerful muscular ass. Clint turns to the camera and lets his huge stiff cock and balls flop out of his underwear. He still has a full natural bush, which we always support and commend. Clint starts stroking his dick, and soon enough he's sporting a full powerful erection.
Clint wanted to make a special demonstration for us explaining how he works out with weights. Clint gives us another one of his sexy smiles and "no I have never worked out naked. I am excited! Let's get a pump on!"
Perhaps we could call this "Clint's workout and infomercial of nude powerlifting". While he is working out, his big and thick cock-head keeps hitting the hot metal of the barbell.
We are pretty sure that this charming bodybuilder is fully aware of the fact that he has a sexy attractive body. Just check out while he's flexing his 15-inch biceps while his cock keeps throbbing between his powerful thighs. Clint definitely has an exhibitionist streak, and he says he prefers when people are looking at him. He is a pretty accomplished and professional bodybuilder and he knows how to train and instruct clients regarding the proper weight training methods. While the camera slowly moves around his hard muscular sweaty body, and even catches his muscular ass, Clint demonstrates for us a complete workout routine.
It's time to take a break from his workout, and Clint uses this pause to take a pee in a bucket. Just pay attention to how clear his piss is, and what kind of a sound it makes while splashing into and filling up the bucket. Asshole lovers will definitely want to check out Clint's pink perky butthole caught on camera in all of its amazing detail. The camera catches his butt and asshole from every imaginable angle while he works out and keeps bending over. Clint is truly a perfect embodiment of an Italian-American muscle God. He is pretty much a full package and comes complete with a flawless body, big hard mushroom head cock, powerful pectorals, amazing big biceps and perfect eight pack abs.
Clint is 6'8" (203 cm) tall and he weighs in at about 225 lb (102 kg).
Needless to say, we certainly enjoyed Clint's jerk off session. He sits naked on the sofa, inside, lubes up his thick dick and proceeds to stroke it in a lengthy hardcore jerk off session! Clint keeps manhandling his big balls while playing also with his cock. It was an intense, sweaty and very sexy jerk off session indeed. It is really great that we have an opportunity to see how this fitness coach and fantasy bodybuilder usually jerks off in the privacy of his house. .
Little by little our big hunk approaches the point of no return, and in the next few moments we can see him shooting stream after stream of thick white jizz which hits the carpet between his bare feet. He then stands up, whike the cum is still dripping off of his cock, and starts talking about his load. Clint definitely loves being the center of attention, and he loves the camera and the fact that we will be watching him and getting horny along with him. In order to clean up all that sticky mess, Clint heads straight to the shower for an extended shower scene. This shower scene is a must watch. Clint really enjoys showing off for the camera while he's lathering up his hard muscular body and his muscle butt!
He devotes special attention to soaping up each foot, which is something that all the feet lovers will definitely appreciate. Then he takes the second powerful pisd in front of the camera. He steps back over the shower drain and lets out a solid stream of yellow piss that splashes onto the tile and his feet beside the shower drain. We really enjoyed watching this union carpenter by day and gym rat and bodybuilder by night. It's so hot to watch such a masculine straight guy showing off his body in every detail, and stroking his big hard cock. There is a certain masculine energy that you can feel emanating from him, a really typical straight guy vibe.
Preview video: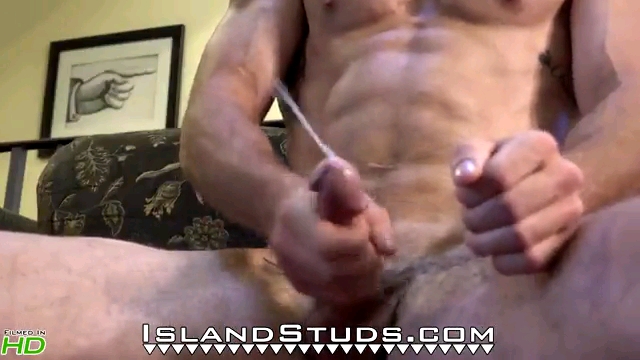 Click here to watch his entire movie in HD quality at Island Studs!
Island Studs is a great, new, and refreshing porn site that features hot guys from Hawaii. These bad boys have no problem with showing off their beautiful, toned body and hard cock. Watch them as they do their usual chores against the stunning backdrop of Hawaiian nature!