Victor managed to spend some quality time with one of the biggest fan favorite Beefcakes, Christian over the Valentine's weekend. It's no wonder that this charming guy is so much loved among the Beefcakehunter members… he's not only handsome and hung guy, but also has a very playful and charming personality. Victor prepared a special surprise for him, and officially gave him his award for the 2020 scene of the year! Needless to say, Christian was pleasantly surprised!
Christian's previous appearance was several months ago, and his fans already started to ask about when he would make his big come back. Many of them have mentioned how Christian comes across as a warm, good-natured guy who is not afraid to show that he feels at home with his gay fans. This time round, however, he was inexplicably somewhat nervous, at least in the beginning.
After Christian received his well-deserved award, Victor got on his knees and started to reach for his slowly hardening cock. Meanwhile, the two men kept talking and laughing. Victor slowly swallows Christian's still soft cock, but within a few brief moments it becomes fully erect. Damn, it's so fine to see that big white dick in its full rock-hard glory! Victor is also hungry for Christian's big balls, and he keeps munching and savoring them, as well as his cock head. There's some deep throating here as well.
Victor really liked when he was riding Kip on that same chair, and he tried to repeat the experience with Christian, but it didn't work, so they had to move to the bed. Victor is aware of the fact that for Christian it doesn't take too long to cum once he starts to penetrate his ass, it usually can happen within the first five minutes or so, so Victor decided to let him be in charge of the situation and to go at whatever speed he wanted. Christian fucked Victor sideways, which is the position in which he really excels. Victor says he really loved when he could feel Christian's big hand on his leg while he was being penetrated in that position.
When it was time for Christian to switch to the full speed, Victor lay down on his belly while Christian was penetrating him from the top position. It allowed him to fuck Victor really deep and Victor says he thoroughly enjoyed it. Then Victor gave Christian the sign that it was OK to cum, and the grand finale was great, as always!
In the end, Christian was pretty spent, but also very happy because he felt good about this scene. He knew that his fans would like it, as he was so sexy and passionate in it. Christian says he's always happy when his fans are satisfied with him and his performance.
Preview video: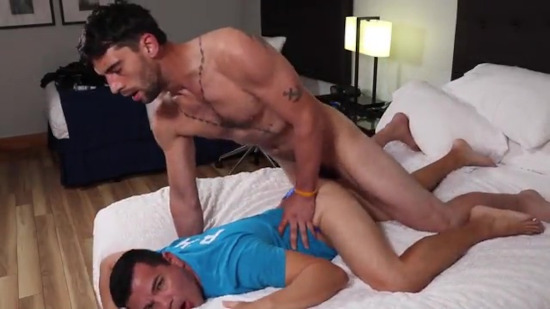 Click here to watch or download their entire video in HD quality at BeefCakeHunter.