We've already seen hunky straight dude Christian a few months ago when he got his huge cock professionally serviced (check it out here). However, this time round Christian wanted to take things one step furher and to fuck Victor's ass. By the way, the video is called "Finally kissing Christian" because Victor managed to steal a few kisses from this hot straight man.
The atmosphere was relaxed at Beefcakehunter studio on that Friday evening, and a few drinks made it even better. Perhaps those vodka shots made Victor hornier than he would have been, and eventually brought Beefcake Christian and him much closer.
Christian is a very cool and laid-back dude and it's always a pleasure to chat with him. Christian thinks that the entire concept of Victor's Beefcake hunting is funny, or perhaps interesting. Victor first asked Christian to be gentle with him, and then drops to his knees to service Christian's massive cock. Obviously, Christian hadn't had his cock properly serviced in a while, at least judging by how fast it got hard when Victor began to suck it! This pandemic is definitely not good for men who need regular blowjobs! Actually, he was so horny that he almost came too soon, and Victor had to take it more slowly.
However, at one point Christian grabbed Victor's head and began to direct him how he wanted his cock sucked. Victor had no other option but to comply, and suck that giant dick hard and good. Victor figured that it was perfect timing to try his little secret plan and try to kiss Christian. At first, Victor limited himself only to Christian's nipples, and was hesitant to go further than that.
Victor was determined to ride that huge Christian's cock really good and, during their first fuck scene, it happened just like that! Victor rode it so hard that Christian couldn't last too long and had to shoot his load relatively quickly. Unfortunately, the camera malfunctioned and that cumshot was not recorded properly. Luckily, both men were still very horny and ready to go one more round!
They went to Victor's bathroom where Christian bent Victor over and started to fuck him real hard! After some time Victor wanted to recreate the cock-riding scene from a few moments ago, and also planned to kiss Christian on the lips. At first, Christian was a bit unsure about the whole kissing thing, but eventually he relented!
The best fuck scenes are made when the people who fuck actually forget about the cameras and just go at it. That's what Victor advised Christian and basically told him just to forget about the cameras altogether. When he came into the condom, Victor thought it was the perfect moment to try to kiss him…
This is a very hot video with two sizzling fuck scenes. I think you'll agree that Christian looks very masculine and sexy, and he's definitely a very good and skilled top.
Preview video: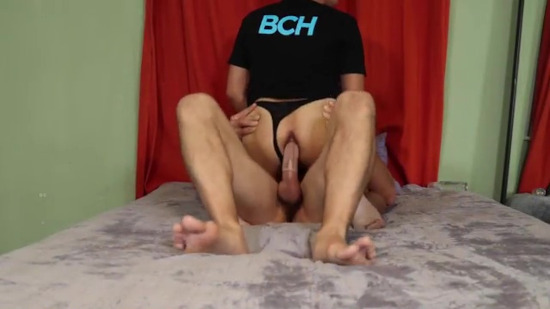 Click here to watch or download their entire video in HD quality at BeefCakeHunter.