Corporal Knox has had an exhausting week on duty, accomplishing various assignments, and now when he's finally free for the weekend, he wants to relax a bit. Needless to say, he's very horny, too! And what better way to connect something pleasurable with something profitable than to drop by Major Wood's headquarters to rub one out and earn some easy cash!
We've already seen Corporal Knox in his previous appearance. This very muscular 20-year-old Marine hails from Georgia and his height is 5'11" (180 cm), while he weighs in at about 190 lbs (86 kg). When he was in high school he won several state championships in wrestling. Major Wood tells Corporal Knox to take off his military camouflage uniform and start stroking his hard Military Missile!
Corporal Knox loves these kind of orders and willfully complies. Knox also flexes his powerful military muscles for the camera, giving us a good overview of his hard body. His cock and how he handles it is a joy to watch, and we're pretty sure he's going to get your juices running pretty fast!
Preview video: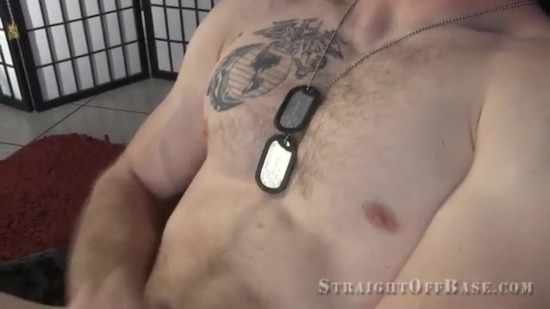 Click here to watch his entire video in HD at Straight Off Base.