Jordan is a hot, sexy, straight college boy. This 23-year-old guy is an avid baseball player, which is probably responsible for his great, muscular and beefy body. He arrived today, not expecting that anything out of the ordinary would happen… probably expecting just to jerk off. But, as luck would have it, director Jason was feeling adventurous and wanted to grasp that beautiful Jordan's cock with his hands… to feel its strength and power when he grabs it in his hands.
In the past, Jordan had gotten one happy-ending massage from his girlfriend. He said it was nothing that would resemble a professional massage, and laughed sincerely about it. Jordan was pretty conscientious about this appearance in front of the camera and he saved up his load for several past days… it was pretty obvious that his cumshot would be pretty memorable!
Jordan lied on the massage table and Jason made his back all oiled up. When Jason reached Jordan's bubble butt, Jordan's cock was already heavily swollen and wanted to make his presence known through his legs! Jason spread Jordan's ass cheeks and started to play with Jordan's very tight asshole! Not surprisingly, Jordan let out several loud moans as Jason was playing with his supertight straight asshole. Not to be discouraged by Jordan's loud moans, Jason proceeded to push his tongue into Jordan's hairy ass. Jordan turned around and his dick was now throbbing hard! Jason rubbed Jordan's chest and nipples, and grasped Jordan's cock with his hands…. also giving due attention to Jordan's balls. Jordan's cock got rock-hard as a result of this.
Then, Jason began to stroke Jordan's cock with reinvigorated vigor… Jordan's moaning got a lot stronger and louder. When Jason tried to lick Jordan's cockhead with his tongue, Jordan let out an utterance that resembled something like, "Oh, fuck!"… and he grabbed Jason's head and started to push it onto his dick with invigorated strength.
There's no denying that Jordan loves getting head from an experienced cocksucker… that definitely gets him off! So, Jason increased his influence on Jordan's cock… slowly working the cockhead in his mouth. Jordan barely managed to open his eyes and utter something resembling "I'm gonna cum soon". A few more strokes on this straight guy's hard cock, and Jordan was ready to shoot his load! Several squirts of thick jizz started to shoot and landed all the way up to his shoulders… covering his stomach and chest in a very messy puddle of jizz.
Preview video: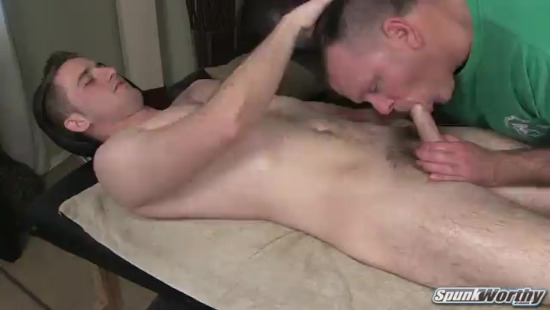 Click here to watch and download his entire video in HD quality at SpunkWorthy!
SpunkWorthy is a great porn site that features younger straight amateur dudes. Lots of truly straight military guys doing gay for pay only once or a few times! This site is usually the first and only place where you'll see these bad boys, so don't miss out!