Today we're going to take a closer look at two hot and cute straight boys: Enrique and Warren. Enrique is the latin guy on the left, and already a young father and go-go dancer. He starts off by telling us about his new Dominican girlfriend, and how much he loves to fuck her pussy. He's been into her pussy for several past days and already shot at least 20 loads into her.
Warren is impressed by this sexual feat, and so is the director. Will Enrique have enough spunk left to shoot today, considering how much he's been filling his girlfriends's pussy lately? Anyhow, the guys get rid of the unnecessary clothes and start stroking their cocks. The director tells Warren to grab Enrique's uncut dick and to start sucking it. It gets hard in his mouth pretty quickly.
While Warren already has a lot of experience with his gay-for-pay work and doesn't mind sucking guys' cocks, Enrique is adamant about not wanting to suck a man's cock. The guys keep stroking their cocks side-by-side… and Warren was the first to reach the point of no return. Warren shoots his load from his stiff cock, and then continues to jerk off because he knows that the director pays extra cash if someone cums again.
At the same time, Enrique's spunk oozes down his fingers. Enrique is in the mood for some dirty talk and keeps saying various dirty things in his latin accent. This reminds Warren of his girlfriend, and pushes him over the edge once again – Warren shoots his load for the second time!
Preview video: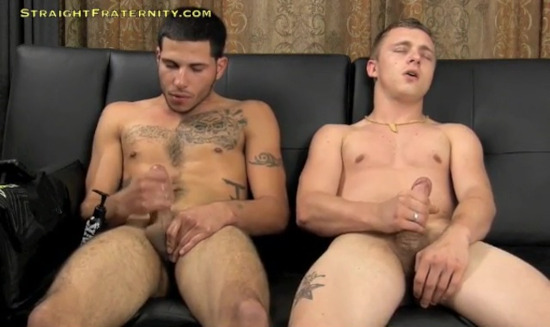 Click here to watch his entire video in HD quality at Straight Fraternity!
Straight Fraternity is a great site that features hot and horny straight amateur guys. The guys here are funny, cool, and entertaining… and of course hot as hell… I'm sure you'll enjoy watching their antics! The site authors really love to show cumshots and if you're a cum lover, you will like this site.