by Ben Daniels (Admin) on Mar.28, 2014, under BaitBuddies
Gavin Greene is a masculine buff dude with an amazing, huge schlong between his legs. Actually, for those of you who like to measure cocks, it is just a little above 9 inches (23 cm) and VERY thick. Good Heavens, surely it must be quite an experience to feel that kind of thing in your ass!
This particular scene was actually made a long time ago and after Gavin proved to be a gay friendly straight guy we found him several jobs: from a bartender and football coach to several other Gay for Pay assignments. But here, we see him at the very beginning of his career – he had only seen and dealt with pussies up to this point, and handling another man's cock and ass was quite a challenge for this very manly straight dude.
If you pay attention you can notice a slight mid-west cowboy accent in Gavin's speech. Of course, all that work on the ranch with cattle and stuff has sculpted his body over the years to a perfection. Add to the mix his love of football, both in high school and college, and you have an excellent buffed-up straight male specimen before your eyes.
Gavin doesn't like to go to the gym – he works hard, plays hard and likes to go out with his buddies searching for the next hot pussy and drinking large amounts of beer along the way. Yep, that's our southern boy Gavin. Since this first experiment with a dude went so well, Gavin doesn't mind fucking a dude if the money is to be made. Funny thing, Gavin realized that he had a much larger than average cock when he was 17 years old during a shower with his mates after a football game. When they saw his massive schlong dangling left and right like a big snake they naturally started making comments about it. Our casting director (Caruso) was curious to find out what were the best and worst things of such a big cock owner, and Gavin said that the best thing is that you can earn easy money in porn when you've got a big cock. And the worst thing? Getting turned down because of its size. But there's no doubt, it does look amazing.
We decided to pair Gavin with Logan, one of the most beloved porn boys who returned to the biz after a long hiatus. Logan looks better than ever in this video, with his handsome face, very beefy body and charmingly blonde hair. You just get that urge to hug him and hold him and pamper him licking his body from head to toe. Of course, it's obvious that Logan had been hitting the gym pretty hard and now he looks like a Greek or Roman statue, with his 7-inch cock sticking out.
The boys start jacking off together, allegedly expecting a girl to show up. Alas, she doesn't show up (as always). So now Gavin is confronted with the new choice – to accept having sex with Logan for double the money, or to walk home without being paid at all. Gavin seems to be furious at first, takes his clothes and is ready to leave, but both the casting director and Logan persuade him to stay and give this new experience a try. And sure enough, he does that.
Logan was pretty eager to get his hands around Gavin's massive man meat, and as soon as he's grabbed it he starts stroking it. Gavin realizes that sex ain't a one-way street and that he is expected to reciprocate. But for me, the best part was when Logan was trying to deepthroat Gavin's monster – just priceless.
Some minutes later, Gavin shoves his huge dick right there up Logan's eager ass. After some adjustments and (naturally) moaning and grunting on Logan's part, Logan's face changes into that of someone experiencing pure bliss! Logan totally lost any idea of time and space while being impaled on that monster cock. He screamed and groaned as if his asshole was being remodeled. Gavin fucks him in several positions, and eventually Logan rides Gavin's dick. The fucking goes on until Logan shoots his load and his sperm lands on the floor. One would think this was the end of it, but Gavin continues to bone him and Logan still keeps on shooting his jizz. Finally, the cowboy lay on the bed and started jacking off like a maniac, probably thinking about some whore he fucked last time. He shoots his wad, too and it's a wrap.
Click here to watch their complete video in HD quality at Bait Buddies!
Bait Buddies is a pretty hot straight guy site with plenty of updates and some very hot guys indeed. There is always a "bait" dude who is bi or gay, and a straight (or sometimes "straight") dude who needs to be seduced into gay sex.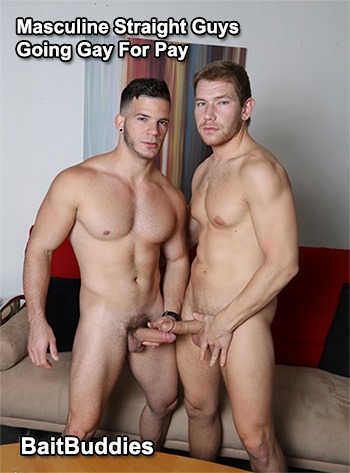 :bartender, blowjob, Coach, Cowboy, football player, fucking, Gavin Greene, huge cock, Logan Vaughn, muscled, straight men, thick cock