Beekcake Robert is a hot straight construction worker. Robert is a hardworking man, and his job doesn't permit him to do much of anything meaningful during weekdays. But on weekends, he is mostly free to do whatever he wants. He was very polite and asked Victor if it was ok for him to drop by next weekend. Of course, Victor replied that he always loves to see his beefcakes, whenever they may be available!
Beefcake Robert is a man of few words, but his smile was really infections and Victor has taken a liking to this silent, sexy heterosexual man. It's true that we like our straight guys to be more open about their likes and dislikes, to tell us stories about their life and so on, but really, these silent types are definitely interesting and tempting. What's behind that facade? Is there a horny little devil hiding there who wants to fuck every little hole that it comes across? Well, let's find out.
Beefcake Robert can surely appreciate a good blowjob. He sat there almost without uttering a word while Victor was professionally servicing his long cock. Robert's dick was so hard that it was a total enjoyment to suck it, on all sides! Victor wanted to worship those heavy construction-worker's balls before offering his ass to Robert to pound it hard.
Victor first played a little with Robert's nipples, and his cock got even harder from this! Encouraged by this turn of events, Victor bent over and let Robert pound his ass from behind, doggy-style.
In the very beginning, Robert's pace was fast and furious, which is good since this is his first time. Victor enjoyed being manhandled by Robert's rough manly construction-worker hands. Robert slapped Victor's butt cheeks in not-a-very gentle way, and all the time he was pushing his tool ever so deeper into Victor's ass. Victor realized that Robert might cum too soon, since this was his first time to fuck a dude, and he didn't have a lot of experience to fall back on, so he made several breaks.
However, during one such break Robert actually came – half into his condom, and the other half outside and visible on the recording. It was a funny moment, but he was so embarrassed. Of course, there was no reason to be embarrassed, which he later realized, but Victor loved this kind of reaction from a straight dude because it was so natural and sexy!
Preview video: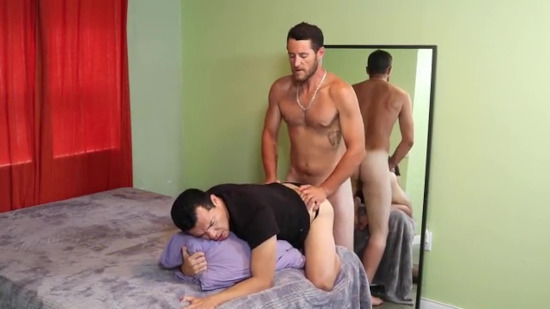 Click here to watch or download their entire video in HD quality at BeefCakeHunter.