These three guys were very horny and wanted to experiment together with some new things. There was only one bathroom in the house, and Mitch and Nik were ready to fuck first. They were supposed to wait for Elliot to arrive as well, but being so horny they couldn't resist and got the thing going on…
First they kiss and caress each other sensually, and then it's time to suck your buddy's cock. It doesn't take them too long before Nik's ass is up in the air and Mitch is fucking him hard with his raw cock. Nik is definitely a great bottom boy, he's got the appropriate skills!
Elliot is finally there and two two guys make him suck their hard cocks as a punishment for being so late. While Elliot is sucking on Mitch's cock, Nik is eating out Elliot's hole. He then starts to fuck him, while Mitch is shoving his dick into his mouth.
Then the guys change places and now Mitch is fucking Elliot. Nik joins them from behind Mitch and there we have a wonderful chain fuck! Nik increases the pace and spunks Elliot's hole, ramming that cum deep into that hole. Mitch is turned on by this sight so much that he has to shove his dick right after Nik, and he continues to fuck that cum-drenched hole like a maniac.
Mitch shoots his load, and provides Elliot with a double creampie! Mitch rams his load deep inside into Elliot's ass. Nik licks Mitch's cock clean, eating all that precious cum. Then both guys take turns in eating out that cum drenched hole, sharing also a kiss between them at the end. Elliot is left injected with both guys' jizz, and then they spank him on the way out.
Preview video: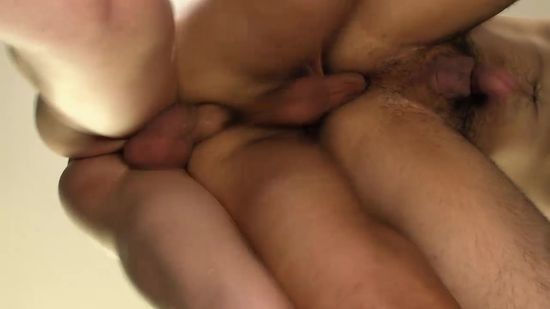 Click here to watch their entire videos in HD quality at Peepshow TV!