You know the feeling, when you go to the gym and your personal trainer is so irresistibly hot that you just can't stop thinking about him afterwards? Well, Leo fits into the description perfectly. He is young and muscular, I mean his body is awesome. He is hairy at many places and those muscles look totally natural on his big manly frame.
Leo has a very laid-back and lively personality. He says that he is flattered by all the compliments and attention he gets from other people because of his good physique.
And if you expect anything but the perfection in his private department, you would be mistaken, because this young lad has a pretty big uncut one. As much as he may be confident about pumping his muscles, he is even more confident in pumping that big cock that needs only minimal stimulation to grow to its real erect size. Leo says that there is one part of his cock, just at the back of the cockhead, where he is especially sensitive and he likes to give it special attention while pleasuring himself.
After a passionate jerk off session, Leo shoots a rather copious load of semen in several big squirts and the hot sperm splashes over his naked muscled body.
I really hope that this young hot straight man will be willing to further explore his sexuality and maybe we will see him in some man to man action soon enough.
Preview video: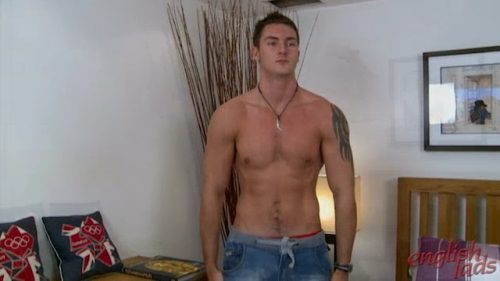 Click here to watch Leo's entire video in perfect HD quality at EnglishLads!

English Lads is a fantastic site with loads of very manly, straight lads from England who love to show off and jerk off for the camera. All movies are in HD quality.