We have already seen Alex, a young ripped shop assistant who works in a sports store, on numerous occasions. However, there are some scenes that were recorded by the Keumgay staff which are not published immediately with the main update.
Well, this is one of those scenes, when Alex came for a massage. After the massage was over, he went into the shower, but Keumgay Sports assistant Sam unexpectedly approached Alex in the shower while Alex was already taking a shower. The young virile sports assistant was mesmerized by Alex and his amazing ripped body. Sam had a strong urge to touch it, especially that big uncut cock! As soon as he touched Alex's cock, it started to grow hard uncontrollably.
Judging by his face expressions, Alex was pretty embarrassed and uneasy about this situation, but eventually he gave in. Muscular hung assistant Sam didn't waste time and started to stroke Alex's cock right away. It seems that Alex was also turned on by this handsome, hung, and masculine man who also has a big cock. Perhaps you've seen this sports assistant Sam in some of the previous videos where he got his huge cock orally serviced while Alex was getting a massage.
In that other video his big cock was taken care of by one of the other Keumgay sports assistants, who eventually cummed all over Alex's body.
Sam suddenly kneels down and reaches for Alex's hard cock with his mouth, which totally surprised Alex.
All this happened spontaneously, without any preparation or pre-written script. It was simply Sam's lustful desire and decision to join Alex in the shower that we can now blame on for this hot handjob and blowjob video. Poor Sam couldn't resist servicing this hot sports store assistant!
Despite Alex's uneasiness about this situation, he eventually relented and allowed himself to go with the flow. After that, Sam decided to take off his clothes and join Alex in the shower naked. Sam is truly a great athlete and he managed to allow Alex to get out of his shell and shine in his true lustful light in this video.
Then, also unexpectedly, Alex got down on his knees and grabbed that big hard cock of our athletic assistant Sam. He started to passionately suck it! Alex obviously enjoyed this reversal of roles, so much so that Sam didn't even need to jerk off in order to cum – he dumped his load straight into Alex's mouth.
Alex had been curious to taste another guys semen for some time, and this was a perfect opportunity for something like that!
Preview video: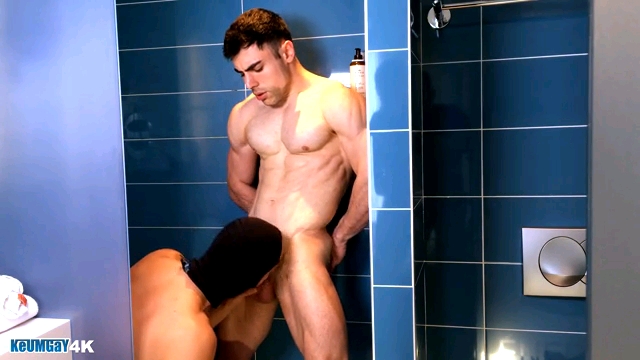 Click here to watch or download their entire video in HD quality at Keumgay.