Men's minds are quite often focused on their physicality and they typically don't feel shy or embarrassed if the other guys see them shirtless or even naked. There is often an element of wanting to show off in front of the other men. Testosterone does its magic, and it's no wonder that these encounters among men sometimes end up with some passionate fucking.
Like in this case where we have two guys working a shift together at the local fetish bar. There's a spark of passion and soon enough one of them is on his knees sucking on the other's guy big fat cock. They quickly rip each other's clothes and the tall muscular dude starts fucking his colleague right then and there – in the bar!
The fucking is relentless, and the top muscle guy takes a short break only to lick and lube up his mate's asshole. These guys love to taste each other's cum.
After quite a bit of hard ass-pounding (the video lasts 31 minutes), the top shoots his explosive load into his mate's bare ass, and the bottom soon follows suit.
And now, at last, these two men can go back to work without being constantly distracted by their lustful sexual thoughts!
Preview video: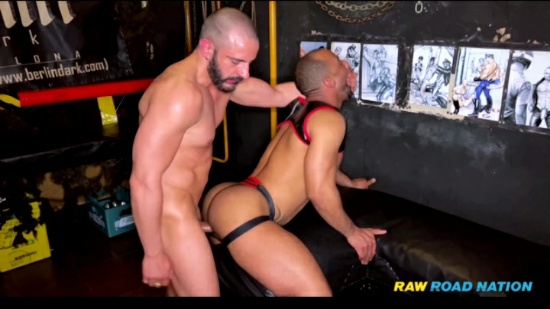 Click here to watch or download their entire videos in HD quality at Raw Road Nation!