This kind of thing is likely to happen only in porn, but it's still pretty hot to watch and it plays on some of the most common gay fantasies that include uniformed policemen and rough tradies…
We have here no less than 13 real men who fuck 2 very hot REAL cops. Of course, all the action is bareback, it lasts for hours and the cops' sorry asses are filled with so much cum you won't believe!
Two unsuspecting cops make a huge mistake when they decide to search the wrong property in which a bunch of labourers and extra-hung tradies get pissed off for being harassed by the cops and decide they won't have it anymore!
These two cops are soon going to go through a training session which definitely can't be found in the Police Guide Book. Many raw cocks invade these two cops' asses and the new hung tops just keep coming through the door. These poor straight police officers have their super tight virgin asses mercillessly stretched, and it's pretty damn sure they're going to remember this day for as long as they live!
The seemingly neverending line of the willing tops have filled the cops' asses with so much spunk that they're going to feel it oozing out of their holes for a long time.
The cops' throats were not spared either, and we can see them gagging and chocking on big cocks and jizz as well. So much jizz gets splattered all over their faces and pours down their chins and necks while they're trying to get a breath of fresh air. And this is only the first part if their ordeal. In the second part they will have to endure a lot more rough treatnlment by real men
Preview video: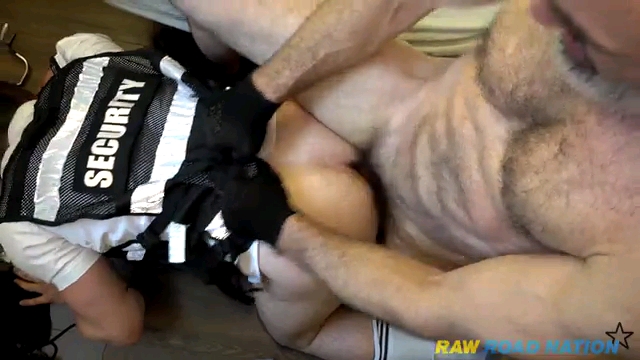 Click here to watch or download their entire videos in HD quality at Raw Road Nation!