Tony has been really busy lately. All this summer he has been working hard at the Family Pizzeria. His little brother got married this year too, and Tony had to pick up the slack for him while he was away. No wonder that Tony had little time for anything else besides his Pizza biz.
But his balls were unrelentingly making the jizz, and one day Tony just couldn't take that pressure anymore. He had to unload his balls somehow, only there was no girl on the horizon. Luckily he remembered us, and gave us a call. He told us how desperate he was for a blowjob.
We told him that if he could come over we would certainly see to it that he gets some quality service. He arrived quickly and was still fresh from work, still with pizza grease stains on his T-shirt. Finally he'd get some quality blowjob!
Trey rushed to take Tony's huge snake out of his pants. Trey is a bit of a size queen, because he almost goes to a trance-like state when he services huge dicks.
Tony got horny as hell and started to shove his big dick into Trey's throat, fucking his mouth and throat like it was some tight cunt.
Tony was in such ecstasy that his eyes rolled back and soon enough his balls erupted with a massive load of cum that filled Trey's mouth!
Short preview video: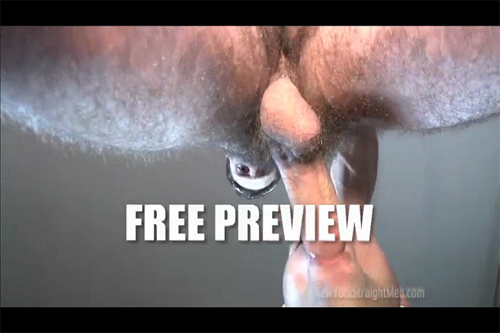 Click here to watch his entire video at New York Straight Men!
New York Straight Men is the world's largest and best collection of hot and horny straight men getting their blowjobs from gay dudes!