It has been quite some time since this hot beefy married man visited Victor. So you can imagine how worked up Victor was when he had a chance to get Tarzan again in his sack!
Victor swears that there is just something about Tarzan's big cock that makes him go crazy. It feels so amazing to receive that huge tool in his ass.
As you may have guessed, Tarzan got his porn nickname because of his long hair. Now, some people don't like long hair on men, but as far as I am concerned, if a guy is masculine, as Tarzan definitely is, long hair is not a problem. However, for this occasion, Victor asked Tarzan to pick up his long hair so that we can also see how he looks like in his "short hair look" edition.
Tarzan's girlfriend was fully informed about his little porn assignment and gave him her blessings. He saved his load for about two days to ensure that his cumshot turns out well on video.
From the moment Victor fell on his knees to worship Tarzan's cock and balls, Tarzan slowly but surely shifted into "the zone". Victor began to rub Tarzan's package to get him into the proper mood, and by the time he removed Tarzan's pants, his cock was fully erect. Victor was munching on Tarzan's big balls, which made Tarzan moan with pleasure.
As mentioned before, there is something about the shape of Tarzan's magnificent bog cock that drives Victor crazy. Victor really gave his best possible performance as a cocksucker and sucked that big dick with gusto! He went from fast and rough sucking to slow and sensual, and Tarzan's moaning encouraged Victor to go on with his technique. At one point Victor managed to kiss Tarzan's hairy manly chest… and he might have also managed to kiss Tarzan in the face…. but it just did not happen at that time… maybe some other time, who knows?
Since this was planned to be a fuck scene, the blowjob part lasted a little longer than it should have… it was jyst hard for Victor to stop sucking on that gorgeous hard cock. But Victor's ass also craved that cock, so Victor put a condom on Tarzan's dick and got on his all fours, ready to be penetrated by this hot manly man.
Tarzan's cock has such a perfect shape that it easily penetrates even the tightest ass… and Victor's ass was so eager to feel the whole lenth of that tool. Victor told Tarzan that he should not worry about cumming too soon – whenever he cums, it will be fine. Tarzan was already quite turned on by the blowjob, and he was pretty close to the point of no return while he was fucking Victor's ass.
So Tarzan came and dumped his load onto Victor's ass. Perhaps this fuck session might have lasted longer if Victor hadn't given him such a long and thorough blowjob, but it is nevertheless pretty awesome. What a lucky bastard this Victor guy is… he gets some of the finest straight men specimens one can ever hope to find.
Preview video: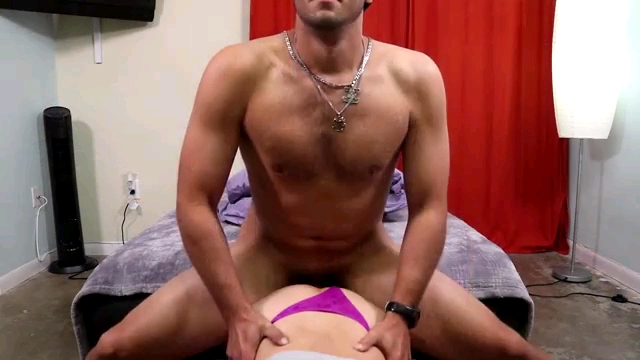 Click here to watch or download their entire video in HD quality at BeefCakeHunter.