Niall is a hot, beefy 25-year old straight guy. He used to be in the Marines, but now that he is a free civilian again he wants to try some other things in life. Especially since he recently divorced his wife, Niall has been making a list of things that he would like to try… and as you may have guessed it, doing porn was on that list.
Admittedly, it took him several months since the moment he first got in touch with Jason from Spunkworthy to the moment when he decided to give it a try.
Like so many straight guys, Niall was concerned whether he would be able to maintain his erection once the camera started rolling. This is a standard and frequent worry that guys have before trying porn, but as we will see on the video, his fears were totally exaggerated. And the same goes for his fears about the size of his cock.
It seems as if Niall has an exhibitionist streak, which he probably wasn't even aware of. Namely, he was really enthusiastic about showing off his big cock for the camera. He kept sheepishly grinning while manhandling his dick, probably a little surprised at how big and hard it had got.
Somewhere towards the middle of this shoot, Niall felt confident enough to stop jerking off and moved his hands away from his cock, allowing it to stand erect on its own. Jason couldn't resist the temptation to make an offhand remark that Niall's cock reminded him of a big handle, and that he'd like to grab it.
Niall replied "Go ahead," and offered his big swollen cock to Jason.
Neill previously mentioned that he had never actually measured his dick, so Jason reckoned it would be the right time to pull out his trusted measuring tape. It turns out it was even bigger than they had thought – 8 1/2 inches (22 cm) long, and a hefty 5 1/2 inches (14 cm) in circumference.
Jason kept stroking Niall's cock while measuring it, and Niall didn't seem to mind that. He even took the lube, which Jason took to mean – "Just go ahead and do it!"
Jason kept using his both hands around Niall's shaft to make him approach the point of no return, and after about one minute of Jason's magic with hands Niall almost exploded and dumped a puddle of cum onto his leg.
Here are some more stats about Niall: Age 25, height 6′ (183 cm) , weight 215 lbs (97 kg), his hair is red or auburn, his eyes are green. He wears shoe size 10 1/2, his cock is 8 1/2 inches (22 cm) long, and its circumference is 5 1/2  inches (14 cm) and it is circumcised. Niall identifies himself as straight.
Preview video: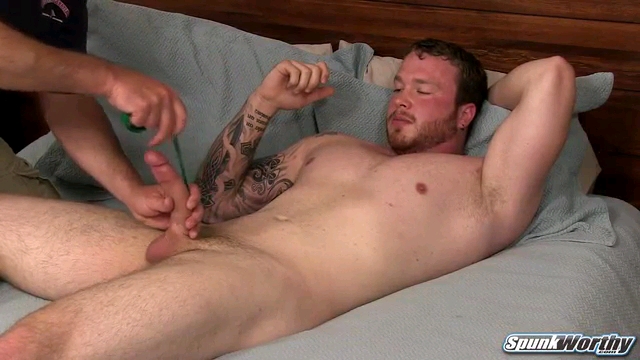 Click here to watch and download his entire video in HD quality at SpunkWorthy!
SpunkWorthy is a great porn site that features younger straight amateur dudes. Lots of truly straight military guys doing gay for pay only once or a few times! This site is usually the first and only place where you'll see these bad boys, so don't miss out!