by Ben Daniels (Admin) on Oct.08, 2016, under Island Studs
Baker is definitely a big boy, in pretty much all respects: his body is big, beefy and very muscular; his butt is massive and muscled, his abs are rock hard and his cock is a gorgeous 8-inch fat monster. This is the first time that this hot Lumberjack from Oregon decided to appear in front of the camera for a porn site. He seems to be enjoying the attention, however, and shows off his workout regime, flexing and posing with great gusto!
He then focuses his attention to his massive 8-inch thick dick and strokes it slowly for the viewers. He loves to show off his skills holding his ax in one hand and his rock hard cock in the other… damn! He's also quite comfortable about showing off his hard pecs and muscle butt, no misgivings there at all!
Of course, we couldn't resist the temptation and made a special behind the scenes video of this hot bodybuilder in which he shows his work and workout sessions outdoors in the garden, in this beautiful scenery. As a real alpha male, he doesn't shy away from taking a piss in the middle of the garden when the urge comes.
Baker is 29 years old, stands 5'8" tall and packs about 185 lbs of solid hard muscles. He really works as a lumberjack and construction worker, it's no joke! It comes as no surprise that Baker spends a lot of time in the gym, pumping all those hard muscles, day in day out.
After having finished his daily chores, Baker sits on a bench in the sun and proceeds to stroke his cock passionately. He talks about women all the time, it's his favorite topic by all means. He's pretty loud when he comes near the point of no return, and then shoots nice thick stream of jizz all over his hands and abs. Afterwards, he goes to the shower where we get to see him in another hot outdoor scene.
Preview video:
Click here to watch his entire movie in HD quality at Island Studs!
Island Studs is a great, new, and refreshing porn site that features hot guys from Hawaii. These bad boys have no problem with showing off their beautiful, toned body and hard cock. Watch them as they do their usual chores against the stunning backdrop of Hawaiian nature!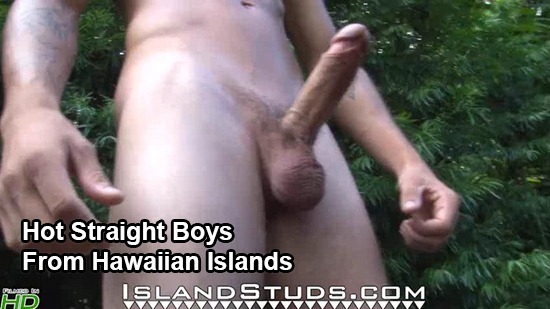 :Baker, beard, biceps, Big Arms, big dick, construction worker, cumshot, hairy chest, jerking off, lumberjack, muscled, nature, Outdoors, pissing naked, ripped, stroking cock, thick cock, triceps, working out