This was the first time for Evan to fuck Victor in the ass missionary style. Victor is still under the impression of this amazing fuck session, but nevertheless he was able to write something about it. Unfortunately, the guys had some technical problems because of the ottoman that they used, but everything worked out well in the end.
This scene was filmed when Beefcake Evan was just nominated for the Beefcake of the Year 2022.
Beefcake Evan definitely deserves to be called a stud because he's already awaiting for his fourth child. I guess he probably finds it useful to participate in these BeefcakeHunter videos from time to time, in order to add some more money to the family budget.. and besides that, it's pretty obvious that Beefcake Evan is a very sexual man, very viral and capable of fucking a hole whenever he's asked to.
Evan was so horny that he couldn't even save his load for two days, which is kind of a requirement for participating in BeefcakeHunter videos. It's quite obvious that this guy is a real sex machine!
Victor says that it's quite an experience to be between Evan's powerful muscular legs, but he wanted to take it all slowly, so he caressed his balls through his black shorts for quite some time before he took off his clothes completely.
Rain or shine, but Evan's cock is always ready for action! Victor was all over it, wrapping it with his lips, and you can tell that Evan was enjoying it all.
Evan is not terribly verbal as a top, but you can easily guess what he thinks and how he feels like on the basis of his face expressions. He was definitely there in the zone, so Victor tried to touch his nipples. And when the time came for Victor to receive that huge cock in his ass, he was so obsessed with sucking it that he could hardly stop doing it.
This time Evan fucked Victor missionary style, and everything started out very well, especially considering the fact that it was his first time to fuck a guy missionarry style. Victor was on the 7th Heaven, but there were some troubles in Paradise which started when the ottoman moved out of its position a few times. You can see Evan trying his best after each pause that they took to correct the ottoman problem. The silver lining of this technical problem is that you can see Evan's big balls slapping against Victor's butt from different angles.
Once the guys finally found the correct position for the ottoman, Evan switched to his extremely aggressive fuck mode and fucked Victor's ass hard and deep. Victor wanted this to last for as long as possible, but Evan just had to come and then he came a lot again! You can see why the title stud is so rightfully correct in his case. That man knows how to fuck a tight hole. We hope Evan will soon appear again to receive his Beefcake of the Year 2022 award and talk a little about that.
Preview video: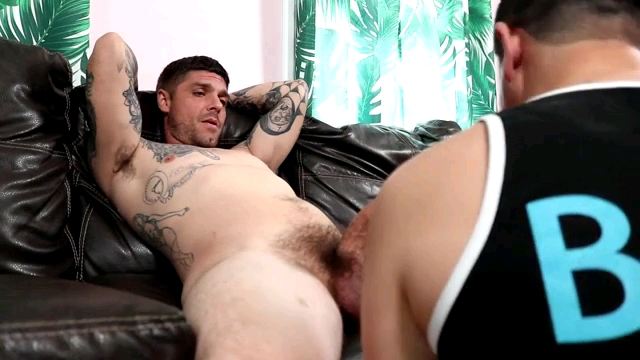 Click here to watch or download their entire video in HD quality at BeefCakeHunter.