Cowboy Arnold is one of the hottest newcomers at BeefcakeHunter's latest series "My Border Adventures". As soon as Victor first saw Arnold he knew that this young man would be a completely new Uncharted Territory ready to be explored and enjoyed.
Cowboy Arnold is actually a handyman, still unmarried and looking for a suitable wife with whom he could start a family and have kids. He's a handsome straight guy with pretty strict standards, so finding that perfect wife turned out to be a lengthier process then one would have expected, but when someone looks for a really good personality in partner, it may take more time. In the meantime, however, there's nothing wrong in Arnold having some time hot fun on the Beefcake Hunter set.
For this second appearance, Arnold appeared dressed as a cowboy with a cowboy hat, and we must say he looks pretty damn good in it. During the Victor's and Arnold's first phone conversation Arnold mentioned something about not having too much experience with anal sex, but he said that what did stuck in his mind was that the "texture" of the hole was different.
Of course, Victor immediately fell on his knees, even before undressing Arnold, and greedily reached for his huge white cock. Arnold was so horny and confident that Victor couldn't help but become "infected", so to speak, with that same horniness. Victor was so turned on that it took him a long time to take off Arnold's boots, pants, underwear and socks. Of course, for feet lovers there is a very nice scene with Arnold's feet, so don't miss out.
Victor was in his Cocksuckers Heaven while he was slobbering on Arnold's cock, trying at the same time to caress and worship Arnold's hairy legs. If Arnold's verbalizations are any indication of whether he enjoyed all this, then we can rest assured that he did, as he kept moaning softly but passionately.
Judging by Arnold's hard cock that never went down for a second, he was more than ready to nail Victor's ass properly. Once he shoved his dick into that eager ass in doggy style, Victor knew that some pain would be unavoidable. But being a pro bottom and very experienced, Victor also knew some tricks on how to minimize and alleviate the pain. Somebody has to sacrifice for the greater good after all!
Obviously, Arnold likes it hard and deep, and has a steady rhythm. From time to time he opened and closed his mouth, probably as a sign of pleasure. And apparently he didn't mind Victor's controversial thong either, or perhaps he liked it. Victor liked this pounding so much that the positives outweighed the negatives, and even though there was some pain, he enjoyed it a lot overall. Victor would move around and become verbal to ease his temporary discomfort. Meanwhile, Arnold seems to have enjoyed this entire spectacle and found it to be a turn on.
The cumshot is always an important part of this video series at Beefcake Hunter, so Victor told Arnold to sit on the bed, and started working on that cock with his hands and thong until he pushed Arnold Beyond the edge. Arnold's cumshot was intense and copious!
Preview video: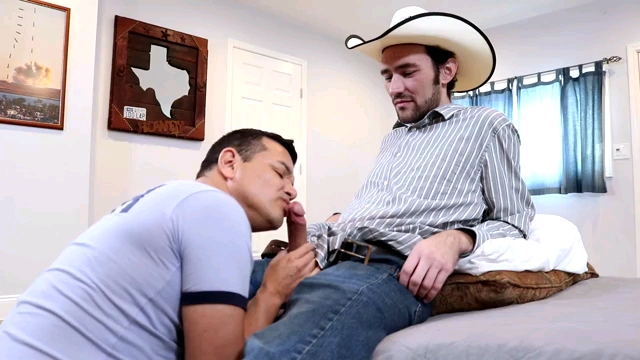 Click here to watch or download their entire video in HD quality at BeefCakeHunter.