Master Aaron and master Dave are specialists in breaking in new lowly subs. For example, this pitiful little whore behaves like a fucking moron, and that's exactly the treatment that he's going to get from these cruel Masters.
Master Aaron is especially fond of restraining and trashing this little bitch, and he definitely gets off on inflicting new red marks on the sub's bare skin.
The more this fucker protests, the more laughable he seems to the cruel, merciless Masters. Master Aaron shoves his hard cock into the subs mouth and fucks his throat pretty hard and without mercy. The sub has no other choice but to swallow Master Aaron's huge stiff cock and to behave like an obedient little cocksucker that he is. Meanwhile, Master Dave whips the fuckers arse so hard that after every hit a new red mark is left on the subs bare skin.
This sub's training would have been incomplete without some hard fucking, so Master Aaron sticks his stiff cock straight into the sub's sorry ass and starts pounding him really hard.
But make no mistake, this pitiful lowly sub definitely gets off on being treated like this. His cock is fully hard and Master Dave keeps milking it while Master Aaron fucks his ass hard and deep!
Preview video: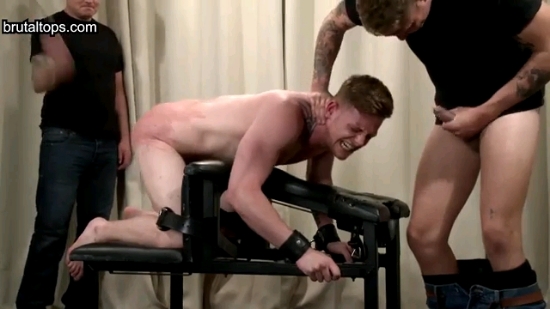 Download this one and many other horny new BDSM videos at BrutalTops!
Brutal Tops is a fantastic site for lovers of the most ferocious sexually aggressive doms in the world. These dominant men love to give orders which have to be obeyed!