We are delighted to introduce a new site called Blacks On Boys. Truth be told, it's not really a new site, it has existed for quite some time, but they have had a facelift recently and now we are starting to feature it on this blog for the first time.
In this first installment we get to watch Logan Bell who is serving his time in jail. Needless to say, his love life leaves a lot to be desired!
However, his Behavior has been exemplary in jail and thus he has earned the level of a trustee.
So now he feels that things are going in the right direction for him, and he enjoys more freedom. But with that comes also the possibility of doing some chores, which enables him to roam around on his own. And as luck would have it, while he was mopping near some of the holding cells of incoming probation violators, he met Xavier Zane.
Xavier Zane has spent quite some time in one of these holding cells, and as you can imagine, his usual sex drive didn't have an outlet as it usually does. So he's been quite horny. Xavier temps Logan to suck his cock through the bars, which was an offer that Logan just couldn't refuse.
While sucking on that nice big cock, Logan finally forgets about his predicament in jail, at least for a little while, and decides to let Xavier out so he can get fucked. Being the dominant dude that he is, Xavier takes charge right away and starts fucking Logan over the sheriff's desk.
Then he drags Logan back into his cell to complete the process of owning Logan's ass.
Logan is on the 7th Heaven and totally enjoys getting pounded so hard by this stranger from a cell! That hard pounding was definitely something that doctor has ordered!
Eventually, Xavier shoots his load all over Logan's ass, and tells him that his ass now belongs to him, at least while they are there.
Preview video: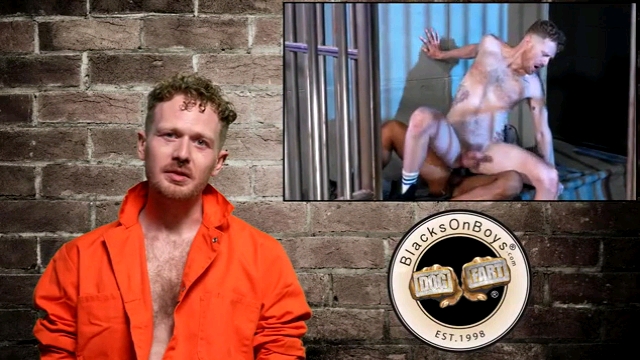 Click here to watch or download their entire video in HD quality on Blacks On Boys!