Javier Gonzalez is the latest young stud to show off his goodies on Islandstuds website.
Javier's father is 100% Mexican, and his mother is a 100% American Italian Irish mom. Javier Gonzalez comes across as a very sexual and handsome young man, and he was very eager to show off all of his manly assets in front of the camera.
Javier admits that he's very fond of touching his own cock. He says he just can't resist the temptation. It seems that that 8-inch dick keeps getting hard on its own, reminding Javier of his duties towards "him".
This 26-year-old dude is pretty tall, standing at 6'2" and weighing in at about 198 lb. He's pretty beefy and definitely not shy when he talks into the camera. He keeps telling his viewers how to pleasure themselves along with himself!
His 8-inch cock is definitely a force to contend with and his big balls are appropriately sized for his big hard dick. Standing at six foot two inches and weighing in at about 198 lb, Javier is definitely one beefy big guy. He was not shy and kept talking straight into the camera, encouraging everyone watching him at that moment to pleasure themselves along with him.
Javier told us a lot of his personal and private stories, and he explained all of the meanings behind many of the tattoos on his smooth muscular body. He also tells us how he discovered in the first place that he had an unusually big cock!
Somewhere in the middle of the shoot, Javier tells us that it is not a good blowjob until his ass is being eaten at the same time – an interesting requirement for this bisexual dude.
Javier wanted to show us how he works out with a set of weights right there beside the Oregon Forest on a very sunny but chilly winter day. His hot creamy brown body glittered from all the angles while he was working out with his cock fully erect.
Without much of a warning, he suddenly turns his big bottle bubble butt into the camera, spreads his ass wide apart and show us his quite hairy manhole. Javier proceeds take several long pieces outside, which were all duly recorded for our vieeing pleasure.
Usual for Island studs, Xavier had to walk the deck naked and do some chores right there in the winter sun outside in the garden. He bends over and lifts the weights, while his 8-in cock is wulhy dangling in all directions. Eventually horny Xavier sits on a chair by the forest and starts stroking his hard cock for a prolonged jerk of session.
There is just something so irresistible about this young muscular guy stroking his thick 8 inch cock and inviting us to join him in the pleasure. Thanks to Islandstuds technicians we are able to watch this amazing young stud getting hard, stroking his huge dick and inviting us all to join him in stroking our cocks along with him. Once he shoots his load, he walks straight into the bathroom with the cum still dripping off from his body.
There he takes a long satisfying shower, where we get to see him washing his dick and balls and scrubbing his feet. Then he takes yet another long piece peace. It was so much fun to watch this confident bisexual sex worker pleasuring himself and encouraging us all to get naked and join him for a long jerk off session!
Preview video: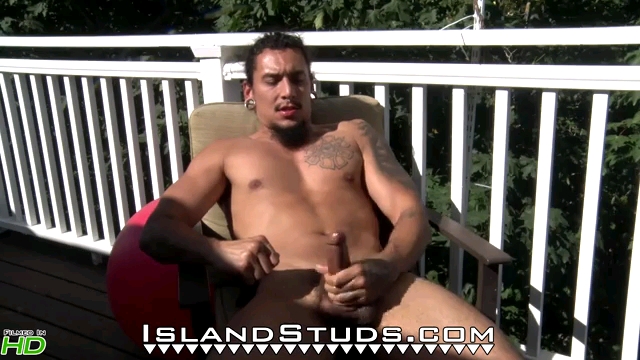 Click here to watch their entire movie in HD quality at Island Studs!
Island Studs is a great, new, and refreshing porn site that features hot guys from Hawaii. These bad boys have no problem with showing off their beautiful, toned body and hard cock. Watch them as they do their usual chores against the stunning backdrop of Hawaiian nature!