Brahim is a hot and masculine young Arab guy who wanted to try his luck in porn. Brahim looks quite innocent, but also very hot at the same time…
The Keumgay guys were impressed by the size of his cock, especially by its thickness. The temptation to grab it and to touch it was immense, but the Keumgay staff is professional and so they touched it only for a few brief moments.
So Brahim just pulls out his hard tool. The moment when they saw it for the first time, the Keumfay staff was both shocked and impressed – it was better than anything that they had seen up to that point. It was a thick, wide, big and juicy cock!
It is definitely a surprisingly powerful rod that can stretch any hole without a problem, and Brahom strojed and polished it relentlessly. The the Keumgay staff was tormented by an intense desire and temptation to grab that big fat cock, which, by the way, definitely needs both hands in order to be held properly.
When his cock was fully hard, Brahim agreed to let one of the Keumgay staff members caress and touch his cock. But as it is often the case with straight guys in these situations, when he saw that another guy was worshiping and caressing his gorgeous fat cock, he didn't protest and didn't back off.
One of the Keumgay assistants played with it for some time, and it seemed that Brahim enjoyed every second of it. It seems that he was surprised that another guy would be turned on by his huge fat cock., and that also turned him on.
Then, Brahim proceeds to stroke his dick faster and relentlessly, and we can see that his erect cock is impressively hard as steel. After some time, Brahim reaches the point of no return, and he announces that he's about to shoot his load!
In the next few moments, he shoots a long rope of cum out of his Arab hard dick. It seemed that he hadn't jerked off in a while. Perhaps next time he will shoot his load straight into his face, and the Keumgay staff hopes to bring him back for just such an occasion.
Preview video: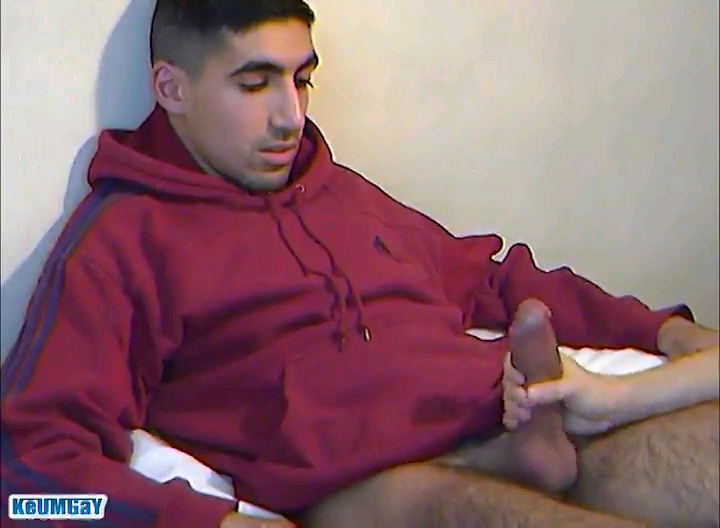 Click here to watch or download their entire video in HD quality at Keumgay.