by Ben Daniels (Admin) on Dec.22, 2018, under Island Studs
Derek is one hot, tall and muscular lumberjack! He is 26 years old, 6'1" (185 cm) tall and weighs in at 210 lbs (95 kg), and his dick is 8 inches long (20 cm). He wears a nice manly beard and is proud of his job as an Arborist. He comes from a large family of Arborists in Colorado and he was happy to show us his hot masculine body in this perfect Hawaii island setting.
Derek quickly gets naked and starts explaining how he trims trees. He flexes his big biceps while wearing a jock strap which is, to be honest, quite unable to really hide that thick 8-inch mushroom-head dick. We also love the fact that his whole body is hairy and that he doesn't shave it off – thank Heavens for that. His ass is firm and bubbly, and looks impressively inviting for anyone that looks at it.
Derek continues to strut his stuff, showing us how he handles his professional tree trimmer Saddle, which grips in thick thighs and firm ass while his cock and big balls hang out naturally out of the leather harness. As he bends over with his hairy ass the camera records every little detail, and then he starts his chainsaw, climbs trees wearing only his Saddle and Spikes on his work boots and fells trees fully naked! Once he's finished with that, he takes a nice long power piss with his cock fully erect, while his body glistens with sweat and saw dust. After that he heads over to the shower to take a nice hot, soapy shower outdoors.
Derek says that he cut his first tree with his dad when he was only 14. He apologizes for having arrived for this shoot in dirty work clothes because he had to work all day clearing brush and trimming trees for the neighbor. Despite his strength and considerable size, this gentle giant says that he is in fact a shy person, and proceeds to explain that he needs to wear a jock strap to contain his big thick dick so that it doesn't get in the way while he's climbing trees. It's his job, after all, so we understand!
Derek says that some of his girlfriends find it very difficult to accommodate his huge fat dick into their pussies. "It doesn't always go in easily", Derek says with a cheeky smile. We hope you'll enjoy this big fella!
Preview video:
Click here to watch his entire movie in HD quality at Island Studs!
Island Studs is a great, new, and refreshing porn site that features hot guys from Hawaii. These bad boys have no problem with showing off their beautiful, toned body and hard cock. Watch them as they do their usual chores against the stunning backdrop of Hawaiian nature!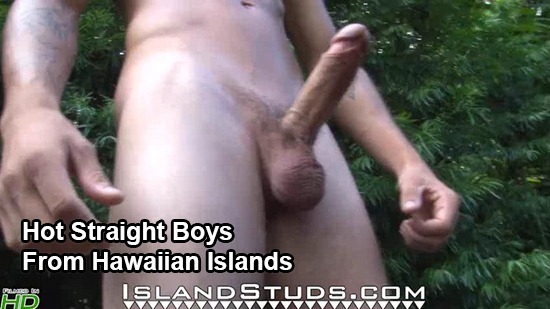 :8-inch cock, beard, big dicks, Derek, flexing muscles, hairy, jerking off, lumberjack, muscled, mushroom head, nature, Outdoors, pissing, straight men, thick cock