by Ben Daniels (Admin) on Aug.01, 2014, under BaitBuddies
Beefy, muscled cub Drake Jaden admits that he's a serious case of a chronic horndog. He has been horny all this day and it's no wonder that there are precum stains on his t-shirt. The very thought of seeing and tasting James Hamilton's huge straight cock was enough to make him hopelessly horny for hours. Drake knows that James has a big juicy one, and the term "schlong" is quite appropriate in his case because it's so awesomely huge even when it's soft. But let's explain when and where he got those precum stains.
Drake says that he met James Hamilton at a porn convention of sorts which is called "work function". One could see a ton of various sexually arousing things there, including erect dicks and gaping pussies from the people that were gathered there. And amidst all that crowd of sexually enticing male bodies, he noticed this straight-looking boy – James Hamilton – and asked him whether he would like to be serviced. Sadly, Drake had no luck that day because James' girlfriend doesn't allow him to have sex with either guys or girls because they are in a relationship. Granted, she does allow him to fuck guys on camera, but that stuff gets them good money. As far as she's concerned, there's no free lunch for that.
Luckily, Drake knows that the porn producer Caruso can often seduce or talk straight guys into to have sex with gay dudes, and so he gave Caruso a call. Well, Caruso knows full well that James Hamilton is straight but that he's been doing both straight and gay porn for a while now. Caruso also knows that James is one super hot straight motherfucker and this call from Drake gave him a great idea. Why not call James Hamilton and pair him with Drake Jaden. Why not, indeed?
James has a really nice, well-built body and he sports one of the biggest and thickest cocks in the industry – a healthy nine and a half inches (24 cm), and that he's a friendly masculine dude. So Caruso talked to James and they set up a meeting soon.
At the beginning of the shoot Drake takes off his sports shorts to reveal that big boner that he's been having today non-stop. That boner is responsible for those wet stains on his t-shirt! James is hot and charming as always and after a brief interview, the director lets them do it their own way, without much interference.
There was obviously a chemistry between them because they immediately start kissing each other, and things proceed very naturally from then on. Drake swallows James' cock right away and then James returns the favor (a bit awkwardly at first but there's time to learn). Both guys are quite hung and it was great fun watching their erect dicks standing there side by side. James is impressed by Drake's cocksucking skills and commends him aloud saying, "He knows how to suck cock!". Well, of course he does, he has perfected his skill over many years, having sucked a lot of cocks in the process. It takes time to become such a good cocksucker, so don't get discouraged if you're a newbie still.
And then comes the main part of this scene – some hard butt-fucking. Drake bends over and James penetrates him doggy style. Drake wants it all and as deep as possible and keeps telling dirty stuff to James all the time, such as, "give it to me!". Then without pulling out James sits on the couch and Drake is impaled on his cock. James keeps hammering Drake's ass from below. Drake's hole was so thoroughly stretched and demolished that this hard pounding with a big cock soon brought him to the point of no return and Drake shoots his load. Soon enough James pulls out, removes the condom, and is about to shoot his load. Drake doesn't want to let that jizz go to waste, so he drops to his knees and positions his face so that James can spunk it. Drake hungrily takes James' cock and licks it up so that no drop of cum remains. Drake even makes a comment about the taste of James' semen, and says "Good cum, better than I expected!"
Preview video:


Click here to watch their complete video in HD quality at Bait Buddies!
Bait Buddies is a pretty hot straight guy site with plenty of updates and some very hot guys indeed. There is always a "bait" dude who is bi or gay, and a straight (or sometimes "straight") dude who needs to be seduced into gay sex.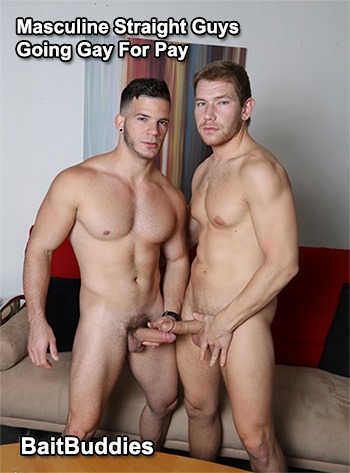 :beard, Drake Jaden, facial cumshot, fucking, gay for pay, hairy chest, handsome, huge cock, James Hamilton, muscled, straight men, tattoos