Rich first appeared on Spunkworthy some five years ago. At that time, being a totally straight guy, he was really hesitant to do anything sexual with another guy. It took him 5 years to think about that possibility and consider it realistically.
Well, as the saying goes, better late than never! Rich finally agreed to have his cock sucked by another guy, and this would be his very first time for Rich to experience something like that.
Rich's first breakthrough happened when he did a massage scene some time ago. He appeared to be enjoying it quite a lot, so it begs the question why it took him so long to decide to do the next step.
Rich's sizable cock was already hard even before he took his shorts off. And as soon as Jason wrapped his mouth around that thick shaft, his cock was rock hard and Rich was already in heaven. He kept grunting with pleasure as Jason was sucking on that stiff pole. And when he started to fuck Jason's face by thrusting his hips into Jason's mouth, it became obvious that he was already practically at the very edge of cumming.
Being a straight guy, Rich always reluctantly showed off his ass. However, when Jason positioned him to get on all fours and stuck his tongue into Rich's virgin hole, it seems that that did the trick and Rich was definitely enjoying his first anal pleasures. Probably more than he had expected.
Rich emphasized from the get-go that he would like to cum while standing up. Since that's no issue for Jason, he let Rich stand up and grab his head and then thrust his cock deep into his throat. So Rich kept face-fucking Jason's throat, and after about 2 or 3 minutes his grunting and moaning got noticeably louder. It was obvious that this hot straight guy was about to unleash his load. And indeed, a few moments after that he pulled out his cock and sprayed Jason's entire face and chest with a copious amount of jizz!
Rich's basic statistics: he's 26 years old, his height is 6′ (183 cm), his weight is 175 lbs (79 kg) , his hair is brown and his eyes are green, his cock is 7.5 (19 cm) long, he wears shoe size 10 (44 EU size), and he identifies himself as totally straight.
Preview video: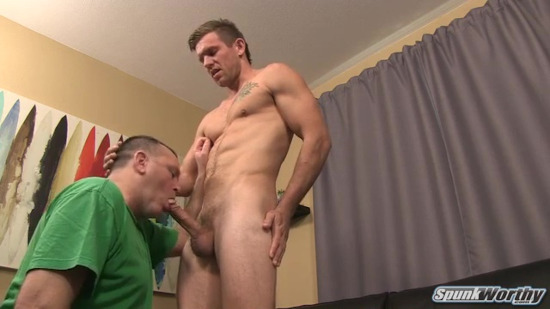 Click here to watch and download his entire video in HD quality at SpunkWorthy!
SpunkWorthy is a great porn site that features younger straight amateur dudes. Lots of truly straight military guys doing gay for pay only once or a few times! This site is usually the first and only place where you'll see these bad boys, so don't miss out!