by Ben Daniels (Admin) on Mar.02, 2012, under MachoFucker
I hear the phrase "ass assault" quite often (perhaps too often) these days. It's everywhere on various porn sites. But do these people use the phrase correctly? Can you be ass-assaulted by a tiny or even average dick? Hardly.
Here we have a perfect example of a REAL ass assault. A white South-African bitch boy is about to experience his first real African monster cock that is going to drill his ass to new depths.
One thing is for sure – those 11 inches of hard Black cock did some real serious ass stretching!
Preview video:


Get the latest Flash Player to see this player.
Click here to join Machofucker and watch these bareback movies in their entirety!
MachoFucker is a fantastic site that features only macho-masculine men with very big dicks, and extreme bareback hardcore fucking. Lots of creampies too. Machofucker tops are very aggressive fuckers and you'll be able to feel the energy and stamina coming from them.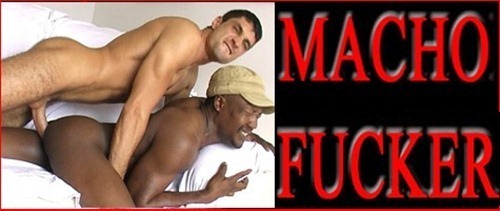 WARNING: This post contains descriptions and footage of bareback (unprotected) sex. Please be advised that this site does not encourage or condone bareback sex unless the participants are tested, live in a monogamous relationship and/or are fully aware of the dangers of acquiring HIV and other sexually transmitted diseases through practicing sex without condoms.
:aggressive fucking, bareback fucking, black tops, blowjob, facial hair, huge cock, monster cock, shaved head, white bottom