It's Seth's turn to give Ethan's huge tool a go.
Seth's gag reflex sure got a good workout during this shoot. He chokes, starts to slobber and had to take a break a few times as Ethan's cock is as thick as it is long.
Seth gives the deep throating one more go; Now that he's warmed up, Seth was able to down the entire cock. Not an easy task! Great job Seth!
Seth works Ethan's rock hard dick until a nice stream of warm white jizz lands on his face! Seth swallows the load and squeezes as much remaining man juice out of Ethan's shaft as he could. He is sure to get every drop in his mouth.
If you like your guys cute, your dicks big, and your cum shots gobbled down, you will absolutely love this video!
Short preview video: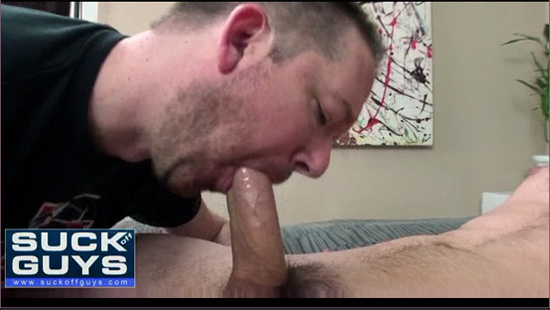 DAMN! I'm beginning to become jealous of these two guys, they keep discovering some of the nicest male specimens! Several weeks ago Aaron sucked off Ethan, and this week it's Seth's turn to feast on this gorgeous hard cock.
Click here to watch the entire video where Seth blows and deepthroats Ethan's massive hard stick!
If you love big and messy cumshots, you should defo visit SuckOffGuys, a site devoted to this very theme – lots of hot dudes emptying their balls and depositing hot, white cum onto their cocksucker's face or indeed into his eager mouth!